Shopping For Custom Chopper Forks
If you are looking for custom chopper forks for your ride, here are some good tips before you buy:
Whether you are lowering a stock frame while changing and extending the fork rake, building a custom chopper from scratch, or customizing a vintage motorcycle, you'll want to know about the great custom motorcycle forks you can choose from for you ride.
Your Custom Chrome dealer has Regency 58mm chrome performance inverted cartridge fork kits by Marzocchi. Two inch over or under kits for FX soft tails from 1984 to present in the $2,000 range. Custom Chrome also offers custom chopper forks called, Spyke, which are complete for assemblies for the Wide Glide 1984 to present in stock lengths up to 12 inches over.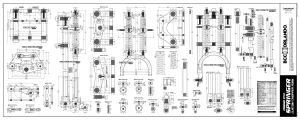 These kits cost from about $2,500 to the $3,000 range.
If you want an old-school look to your custom chopper, you will want to consider these custom chopper forks...Custom Chrome Donny Smith Signature Series girder forks. The 440 ISA progressive suspension shock gives these forks a old-style Springer look. You can get them in stock to 9 inches cover stock lengths. Donny Smith front end kits with 41 mm slotted triple trees can be purchased in stock to four inches over stock for about $1,000. Of course, any prices are subject to change at any time. Check with Custom Chrome or your local Custom Chrome deal to determine exact costs of the exact custom chopper forks you want for your custom ride. You can access the Custom Chrome catalog online at www.customchrome.com.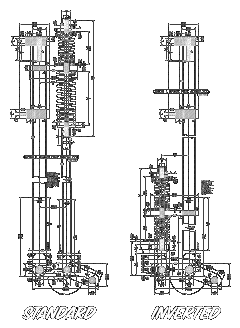 Irontail.com has everything you could possibly want to custom motorcycle forks. From old-school custom chopper forks to the most modern looking designs, it is available from Irontail. Here you will find the wide-style Springer front end with an antique look, perfect for old-school custom choppers. Three to five inches over stock are available. Showa 35 mm fork tube and slider kits for the FX, FRX and Sportster models can be found in a two inch over option. 41 mm fork kits for the Big Twins fit FXST 1984-1999, FXWG 1985-1986 and FXDWG from 1993 to 1999. These fork kits come in smooth, machine ball or torpedo style from two inches under to 14 inches over stock. The Big-Un Custom Front Fork Kit is also available at Irontail in two inches under to 12 inches over stock. The very best part of the Irontail.com product line is the fact that every possible replacement part is readily available. You can find custom chopper forks at www.irontail.com.
You can sometimes find really good deals on custom chopper forks and fork kits in various specifications on eBay.com. However, it is a matter of the luck of the draw what may be available and whether you will win the auction or not. Sometimes you can find really great deals; other days you won't what the front end needs for your custom chopper.
Because the prices on these auctions can be really low, you need to read the auction information very, very carefully and make certain this is the exact fork kit you want. Sometimes items can not be returned or exchanged, especially used parts.
These are only a few of the places you can find custom motorcycle forks and front end parts or kits. There are many other brands and many distributors that carry custom chopper forks and other kits for your motorcycle. Look around in your area or search online based on the exact specification you want on your dream machine. Whether you want under stock forks or long, long 14 inch over stock forks for your custom motorcycle, you'll be able to locate the forks or a fork kit that will make you very happy with both the looks and performance.
Related Articles:
Copyright Custom Choppers Guide All Rights Reserved.