How To Build A Chopper Frame!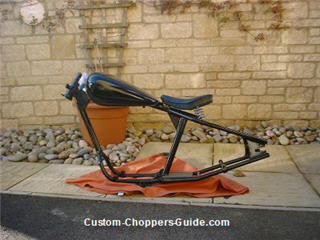 Do You Want To Build A Killer Chopper Frame Like This One?

Dear Friend,
If you want to learn how to build a chopper frame but you aren't sure how to begin, what tools, equipment, or materials you need, then this will be one of the most important letters you read this year.
Here's what this is all about...
How To Build A Chopper Frame Vol 1. is a step-by-step guide that reveals the inside secrets, tips, and techniques you need to know to succeed at building a custom chopper frame.

In this guide you will discover how professional builders and engineers create custom chopper frames from scratch, and you'll gain the knowledge so you can speak intelligently about how a chopper frame is built.
In addition, you'll get a detailed explanation of everything you need to know about how to build a chopper frame so you can build a killer chopper frame on a shoestring budget.
You can buy the raw materials and start building your chopper frame today!

Highly recommended!


Order Now - $29 $19.95 $8.95
I like How To Build A Chopper Frame because of it's clarity, it's easy to follow, and very informative. It shows the right way to approach the job and what to look for. Plus, it helps to stop problems from being created later on by pointing them out prior to construction!

Jim K Victoria, Australia.
In How To Build A Chopper Frame Vol 1 You'll Quickly Learn:
How to plan for the job...


What mountings are needed and where to put them on your custom frame...


Frame geometry: This is the most important part of creating a safe, well thought out frame...


What raw materials you'll need to create your frame


The tools for the job: You don't want to be running to the local hardware store, bike shop, or searching on the Internet every 10 minutes!


How to put it all together: Covers everything from prep work to making the frame...


And Much More
How to build a chopper chassis is very good, very thorough, and has a ton of very useful information. The best thing for me was the plans for the tubing bender as I am in the process right now of building the bender. I recommend custom-choppers-guide.com material very highly...great stuff!

Darryl Paulhus Whyalla, South Australia.

What How To Build A Chopper Frame Vol. 1 Is Not:
This is not a set of frame plans for you to follow. This one-of-a-kind guide is about how to build your very own chopper frame so that you know what is needed, and how to finish the job. If you want to build a frame from scratch but don't want to create your own plans, then you should order frame plans.
In addition, this is not for advanced welders and fabricators. It's best for novice and intermediate builders who want want to learn about the process, materials, and little known building tips that only the pro's know about.

What How To Build A Chopper Frame Vol. 1 Is:
This guide covers it all for the average guy to learn how to build a chopper frame, and it will make this difficult task easier for you to get started. It shows you everything you need to know about building a chopper frame so you can hit the ground running.
You'll learn everything you need to know to build a killer custom chopper frame, and you'll get detailed pictures throughout the guide which will help you as you build your chopper frame.
How Much Is It?
The price is only $29 $19.95 $8.95. A small price to pay for something that will save you countless hours frustration, and hundreds of dollars on bad or wrong tools and equipment.



GUARANTEE: If How To Build A Chopper Frame! Vol 1. is not everything that we say it is and you are not completely satisfied with it, then we will refund every penny of your money with no questions asked. That's more than a guarantee, that's a promise.



Order Now - Only $29 $19.95 $8.95
Click Here For Secure Order Form
IMMEDIATE DOWNLOAD!
Order now and download immediately!


P.S. "How To Build A Custom Chopper Vol. 1" has been selling for $19.95 for the last four years. We lowered the price to $8.95 as a special Internet test, and we may take it down at anytime. You must order now to guarantee you'll get it for just $8.95.


Still Not Convinced?

Get My Free Frame Building
Mini Course...


Our Special Mini Course For Novice And Veteran Custom Bike Builders, Fabricators, and Metalworkers Will Save You An Enormous Amount Of Time Preparing And Working On Your Custom Motorcycle Frame!

'9 Problems Metalworkers Face When Building A Chopper Frame And How To Overcome Them' is a FREE Mini Course that contains the little known insider solutions to the common frame building problems. These problems and solutions are for all skill levels. So if you are just starting out, or you have been fabricating for years, you will get a lot out of this very special mini course.

You will find the material to be informative, detailed, and extremely helpful in your frame building projects. Sign up now...

Don't worry - we do not share your email address with third parties. You will only get quality information related to metalworking and custom bike building.

How To Build A Chopper Frame is very informative, accurate, and has reliable information. It downloaded easily saving me time and money, and it has excellent resources which are available at my convenience!

Merry Lynn Step, Horseshoe, North Carolina.



It (How To Build A Chopper Frame) helped me think through the key issues before I start modifying my frame.

Peter Whiting, Pennsylvania.




---
---