Who Else Wants Girder Forks?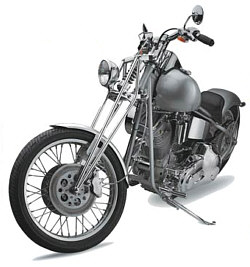 Girder Forks: When building your own chopper or bobber motorcycle, or any other motorcycle for that matter, a lot of thought and preparation needs to go into deciding what style of parts you wish to make your bike unique and as you would like to see it (Picture courtesy of Donnie Smith Girder Front Ends).
One of the most difficult choices to make when looking at parts for a motorcycle is the forks, there are so many different types of forks on the market all giving motorcycles a different aesthetic look and feel to ride.
When it comes to forks many choose forks of recent times but there is one type of fork that a few hard core motorcycle enthusiasts turn to time and again to give that special look modern forks cant achieve, this is Girder Forks.
Girder front ends are actually one of the first types of motorcycle forks ever to be used on a motorcycle for suspension, but even though they are old compared to the new technologically advanced forks of today it doesn't mean they should be easily overlooked.
For those that don't know, Girder forks consist of two upright forks that use linkages combined with a spring to attach to the triple clamps (bottom and top). An interesting point to undertake on the girder front end is that the wheel is fixed to the upright. The suspension spring on a Girder front end, similar to a Springer fork, is generally exposed which is something you don't see in today's forks.
It is the exposure of the suspension spring and the straight run of the fork that really gives the girder front end character and can be the difference between a good bike and a great bike, it must be said though that girder forks don't suite all bike types and care needs to be taken to ensure it suits your bike.
Girder front ends may be an old style of fork from many decades ago but this does not mean they are not worthy of adorning a bike of today. In fact many of the much loved motorcycles you see that carry a special aura to turn heads even amongst the most ardent motorcycle connoisseurs are those that have girder forks because they can provide a look that springer forks or telescopic forks just can't give your bike.
If you are thinking about how to improve your motorcycle or you're looking at building a new motorcycle from scratch and want to create something unique and interesting with that special true motorcycle feel then why not look at girders. Girder front ends add a new dimension to a motorcycle as they create an interesting look and feel that new forks just cannot master.
Related Articles: