XS 650 Yamaha Choppers:
Yamaha Choppers-Confluence of Stylish Look And Superb design Engineering. Since there are many makes and models of bikes, makers face stiff competition in their battle for survival.
However a select few actually leave a lasting impression on their riders. Some models of Yamaha motorcycles belong to this small category. Yamaha tries to blend the past into the present with a sleek design and stylish appearance. Let's peek into the world of Yamaha Choppers.
Problems of the older bikes
Though their older bikes sported a sober and stylish look, they had their share of shortcomings. Yamaha made up for these shortcomings in their newer models. The first shortcoming was oil leakage. Also, fumes could ruin riders' clothes. Bikes of yesteryear also faced sudden blackouts due to electrical system flaws. Yamaha tried to eliminate these problems. Yamaha's were later designed to be survivor and in fact, have been time-tested. One such model XS650SG sported a look of the 1960s and 70s, and yet was very much user-friendly.
The Yamaha XS650, The true survivor
The Yamaha XS650 family has had a glorious product life cycle, starting in its evolutionary journey as the largest selling Yamaha model in around 1977. In 1979, the model was competitively priced at $2198.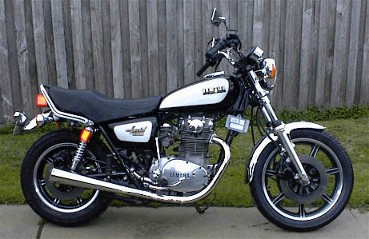 The main advantageous feature of these were that they reported no or minimal oil leakage, fewer breakdowns and had minimal maintenance costs. From the shores of Japan, Yamaha choppers eyed towards the lucrative U.S. market. But before entry into the U.S. market, market research led to lot of fine-tuning. Also, it had to sport an "American" look. The Yamaha choppers actually developed what is known as the down line, with the oil flowing from the tank through the seat and the seat cover. In XS650 family of Yamaha choppers developed a mixture of British and American looks and started catch on to those overseas. The XS650 series also began to offer different models like XS650G, XS650-G2 etc.
The Physiology
It was perhaps subtle designing aspects of the Yamaha choppers that led them to be a great hit in the United States market. Let's take a look. The front wheel is provided with unconventional tubeless rubber, whereas the convention is to go for tube type. The wheels of these Yamaha's have a seven-spoke design with a silvery shine.
Their brakes are special, with solo disks fore and aft. The suspension forks of XS650 Yamaha's are straight in nature. The shocks are capable of delivering 90 mm (3.6 inches) of travel. Much effort has been devoted to the configuration of the engine. The crankshaft has been counterweighed, rubber cushioning has been provided, motor mounts have been moved and the transmission ratios have been revised in order to put a check on the vibration aspect. The slim and trim engine ensures economic fuel consumption.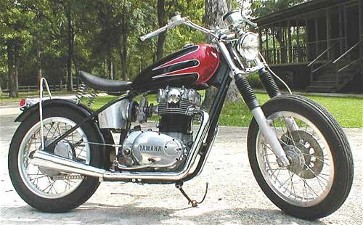 The engine has a custom styled shorter megaphone. Although you get a roaring sound, it still does not violate any laws. This family of Yamaha possesses handlebars 28-inches wide and with a rubber mounting that gives considerable flexing facility. One of the most attractive physiological parts of the chopper is the seat, which provided additional padding and a lower position adding to the comfort. The design also allows room for innovative modification in days ahead. The gas tank has a capacity of 3.0 gallons. Additionally, Yamaha's have an array of extra options to suit your specific needs. The bike weighs 463 lbs., has an overall length of about 85 inches.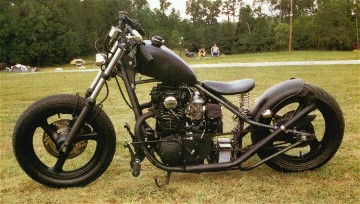 Upload A Picture Of Your Sportster Chopper or Bobber
Simply upload a picture of your bike and tell us the details. The more the better!
Your Fellow Subscribers Yamaha Pictures and Details...
Click below to see choppers and street bikes from visitors to this page...

1993 Yamaha Virago 535

I bought this wrecked 1993 Yamaha Virago 535 and decided that putting it back to stock condition was not an option. I fabricated the tank, handlebars, …
Yamaha 1100cc Custom Chopper Not rated yet
I just bought a Yamaha 1100cc custom chopper. I like the frame but I want to personalize it to my needs. But I have a limited budge. It doesn't have …
Related Articles:
Copyright Custom Choppers Guide All Rights Reserved.