The Great Triumph Choppers - Overshadowed By Harleys!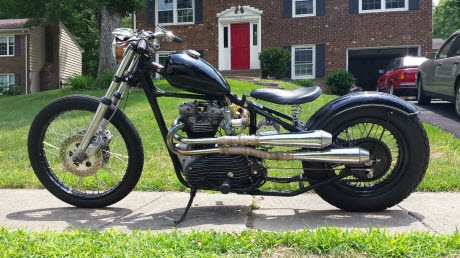 Triumph choppers are some of the classiest, old school type choppers you'll find. Harley Davidson has captured the hearts and minds of the world, but Triumph is a killer brand, and they don't get enough recognition in the chopper world. 
Evil Knievel was being interviewed a while back and he said that his Harley would never hit the ramp straight and it would swerve at high speeds. But his Triumph was always "straight as an arrow".
He stayed with Harley Davidson because Triumph didn't have a sponsorship package...according to him. Evil knows a bit more about bikes, so I'll listen to his advice.
Maybe you should consider getting an old 60's or 70's Triumph and customize it?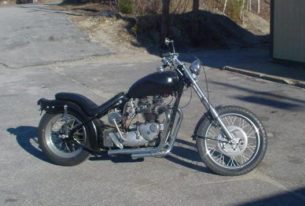 Is Triumph As Famous As Harley Davidson?
Triumph choppers are as old and as famous as Harley Davidson choppers, except that these sleek machines are more favored in Europe than they are in the United States. Most choppers are custom built to mimic the look of the Triumph motorcycle's models from the 50's and 60's. This is the kind of chopper that rebels and loners such as Steve McQueen, Marlon Brando and Clint Eastwood rode in movies of the same era.
Today Triumph is still the pride and joy of the British motorcycle industry. Their main production facilities are located in Hinkckley in Leicester England. The Triumph name dates back to 1885 when the founder of Triumph, Siegfried Bettman started adding motors to bicycles.
With the invention of the combustion engine in 1902, he produced the first powered two wheelers. Since then this company has produced many kinds of models including the very famous Bonneville, Thunderbird and Tiger series of bikes.
To mimic the bold yet laid-back style of the Triumph, custom chopper builders will want to look for a frame that resembles a classic cruiser. This means that the seat is low-slung and features long forks for the wheels.
Another identifying characteristic of true Triumph chopper is a transmission that is separate from the engine. 
The most popular engine for a Triumph is a parallel twin engine. A parallel twin engine is basically where two cylinders run parallel to one another in separate chambers.
Triumph choppers usually had a 360 degree crankshaft (this is where the pistons rise and fall together.)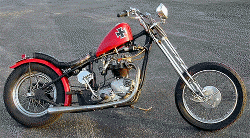 The in-line Parallel twin has more vibration, lower RPM and less horsepower than other In-line engines. Engine parts are readily available and fairly inexpensive.

So if you buy a bike and chop it up, you can be sure there are parts around to build a Triumph chopper. The classic Triumph transmission is four speeds. A rare option is a transmission called the "slick shifter".
This transmission was designed for racing and allowed shifting without having to pull in the clutch. The unit transmissions that were designed for Triumph choppers were four speed models until about 1972, when Triumph began manufacturing a five-speed transmission. 
If you are building a bike one customization you might want to consider is swapping the four-speed transmission for the newer five-speed edition. 

The bikes, motorcycle parts and motorcycle accessories that Triumph produces are widely imitated by companies who produce clones for sale in what is called the aftermarket. Reproductions of genuine Triumph parts or parts that have a similar styling can be purchased in the aftermarket so that you can build an inexpensive chopper that looks just like the real thing.
Other features that distinguish the Triumph motorcycle from other kinds of choppers are a forward mounted foot shift, chromed foot pegs, raked handlebars, a slab style yoke, slash cut mufflers, pillion foot rest hangers, an 18 inch front wheel, disc brakes and elaborate chassis trim. Vast ranges of accessories that reflect the enduring popularity of Triumph choppers are also available to purchase online from the company's catalog.
1968 Custom Triumph Chopper!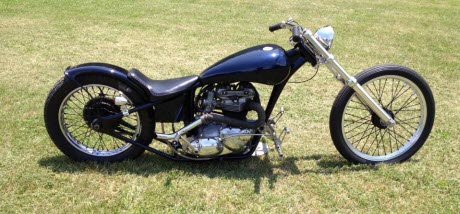 Here are the features of this killer ride:
Rake is approximately 38 degree range.

No welds are exposed (rare).

1968 triumph chassis (modified).

All aluminum gas tank.

Triumph engine: 1971 T120r rebuilt).

Boyer electronic ignition.

Sportster narrow glide front end.
Triumph parts are not hard to source so everything you need to customize your bike including custom fitted leather saddlebags, sissy bars, and the signature classic Triumph chassis trim should not be hard to find with a little effort.

Drawing inspiration from the past, Triumph motorcycles are classic machines that offer a rare combination of traditional styling and a kick ass attitude that is admired by custom built chopper enthusiasts all over the world.
---
Upload A Picture Of Your Triumph Chopper or Bobber
Simply upload a picture of your bike and tell us the details. The more the better! We might put you in a slideshow movie that tens of thousands of people will see!
Your Fellow Subscribers Triumph Pictures and Details...
Click below to see choppers and street bikes from visitors to this page...

---
Related Articles:
New Picture!
---
---