Triumph Rat Chopper
by Jody Bain
(Somerset CA.)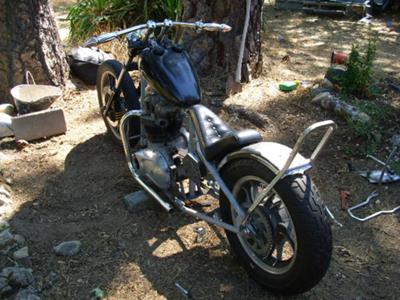 Rigid XS650 Frame
I started this Triumph Rat Chopper vision with a rigid frame for a Yamaha XS 650 frame, A 1972 T120r 650 motor and a very understanding wife.


Needless to say some frame modifications were at hand to get the motor to bolt in. with the rake on the frame I needed at least a 36" set of forks. Well it just so happened that a 920 Virago was a perfect fit in length and for the steer head. I wanted spoked wheels but on a project like this and a budget like mine, well you know. That's where the first hurdle came to play, I bought the front end with the wheel and then realized that Viragos are shaft drive. OOps! Upon further research I found out that the 550 Virago was a chain drive and the same size and style wheel as the 920. All Is good, NOT!
Triumph runs the rear sprocket and brake assebly, on the left side, Not Yamaha. Now I have to put my 27 plus years of metal fab work to the test. After viewing an old photo of a British 1920's bike with a hand shifting lever on the right side of the tank with a linkage system putting the shifting and the rear brake both on the right side, My vision became clear.
I have a 750 upper end kit, Model A tail light, Vintage bullet style rear turn signals and the head light I made using a 1920s police spot light, Very cool. Still lots to do.
J.Bain