Dom Tubing and Motorcycle Frame Tubing: A Basic Guide.

DOM Tubing = Drawn Over Mandrel. Here's what the in's and out's are when it comes to finding motorcycle frame tubing and using DOM for your frame build.
DOM Basics: DOM or Drawn over Mandrel Tubing and Seam welded tubing are two of the most common forms of steel tubing available.
Each has it's advantages and disadvantages. 
Seam welded tubing (to the left) is the most cost effective and can be used for various applications where high stress is not a concern. 
Light duty stationary objects such as tables, chairs, fences are the ideal application for this type of tube. 
Automotive or Motorcycle as well as industrial applications should always use DOM structural steel tubing. These applications usually see a lot of unusual stresses at odd angles and are used in applications where high stress can be exerted due to G forces of the object moving constantly at various speeds.

Seam welded tube uses a flat sheet which is bent into a circular shape and welded using the process shown on the right. This welding and bending introduces some stress risers at the weld location.
When stress is applied then there is possibility of deformation at this weld location. Perfectly rounded DOM tubing on the other hand performs solidly with a load is applied. For our motorcycle application, it is definitely recommended to use steel DOM tubing instead of seam welded tubing.
Some builders agree that DOM tubing is harder to work with. But DOM steel tubing is much stronger since there is no weld.  The tube is drawn out over a mandrel and sometimes even drawn multiple times in order to achieve the proper outer diameter and inner diameter.
Motorcycle Frame Tubing and Building A Motorcycle:
The standard tubing usually has a weld seam on the inside of the tube which is visible.  This results in a stress riser and is not as strong as a clean smooth finish like the DOM tubing.  Since the DOM tubes have a lot of processing required, they are much stronger and more uniform which make them the better choice for structural applications such as motorcycle frames.  Because of this extra process during manufacturing, they are usually more expensive as well.  I definitely recommend DOM tubes over standard tubes.

---
Why We Designed Our Bobber Frame Plans Using DOM Tubing and Can You Use Other Types Of Tubing?
We had our bobber frame blue prints designed using 1.5" tubes with 1/8" thick walls. Many builders use 1.25" and sometimes even 1". But 1.5" DOM tubing is a pretty hefty tube and the frame is a little over designed structurally, for a reason. Also we used 1/2" thick steel plates for the rear axle plates. This should be more than sufficient.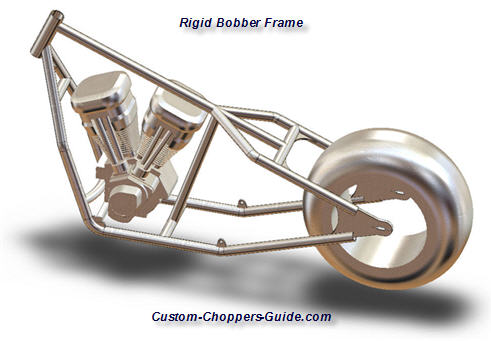 We can't say for sure whether 1.25" or even 1" tube is fine unless we run some detailed FEA analysis with some load. Builders are free to use whatever material the wish, but it is important that we recommend the stronger design (dom tubing) rather than under design.  It's not worth the risk.
All of the frames that we are working on use 1.5" outer diameter tube with 1/8" wall thickness (using DOM tubing).  We did some Finite Elements Analysis (FEA analysis) and put together a report showing the differences between the tube diameters and their performances. We can put it up if enough people request it.  The FEA analysis that I conducted assumes a uniform material with no welds, which equates to DOM steel tubing. 
Here's What Luke Has To Say About DOM Tubing, ERW Tubing, and Pipe For Bike Builds:
Here's What Luke Has To Say About DOM Tubing, ERW Tubing, and Pipe For Bike Builds:
One of our favorite subscribers, Luke Hudson, had this very interesting, informative, and honest response to our main article above...
The dom tubing article is a very good editorial I like it. It really picks the site up extremely good and important information there for the builders. Not much of a mention of ERW Tube which has a strength of 350 MPA and is legal to build.
I've ridden some factory bikes with the crappiest of welds and even dirt bikes over jumps and stuff with real small tube. Laverda Built one of their production Race Bikes with Pipe so it's not that things cannot be done, it depends on how you want to go about it and how you can reinforce strength. You may have traded in. It's all about give and take. You take something you must give it back.
Most if not all pro builders will disagree as they have a reputation to compete with others in the field so they cannot drop their hat on the issue they have a bench mark to chase. I don't. If they get caught saying its OK to use pipe or something similar their customers would vanish as other pro builders would soon make it known and wreck the build reputation and take his clientele. 
In my build using Pipe if you like 3.4 mm tube 33.8 OD with a weld process that is of low heat and a tig strength well, but not as brittle and using gussets and mounts to add strength back, I see know problem. It looks tougher than my original Harley chassis. I did not bend on the seams of the tube. I had them turned slightly.
Look DOM tubing is ERW before its drawn so having no weld is a visual thing in my opinion so this is done primarily for dimensional properties. Ok they give it a rating or 450 and some maybe 500, but in all if you throw your scoot that hard and live through it chuck it in the bin. I'm not advising that anyone use pipe. I'm with the others on this. It is a week link and you need to plan much harder and you're going to have a lot more effort before you to use it and if you ever want to sell the bike forget it as your the builder you may be up for serious damages in the future.
I'm happy doing what I'm doing and I will put my bike together and just see what happens. Just to see for myself. But I'm building a ERW tube bike as well. My chassis with all gussets weighs 36kg so I sacrifice weight and it would never make a show bike so I trade that to. 
But using a normal pipe bender and sand in the pipe and a good eye and a steady hand I managed to do it. But i think most of it was shear ass. I would not attempt this with pipe again. I recommend to all others go for a minimum 350 MPA ERW Tube. All the best with your build.

ERW Tubing Guide: Dom Tubing or ERW Tubing?
Related Articles:

See Questions Below About What Tubing To Use From our Bike Building Questions and Answers Page: