Bobber Frame Blueprints Questions and Answers...

Bobber Blueprints Question Number 1: What engines will work on the frame (type of engine)?
Answer: This depends on what your taste is (if there is a specific engine you are thinking about using we can review and make sure it fits. Or you can even get your own custom drawn chopper or bobber frame blueprints).
The frame was designed with a very open area in the center. A lot of chopper frames out there have a center vertical bar from the backbone down. See photo of generic frame below...
Our chopper frame, on the other hand, does not have this. Our bobber frame does. See photo below, and see Question 3 for how to modify the bobber frame blueprints to adjust for an engine that has a transmission built in, and therefore you need to remove the center post...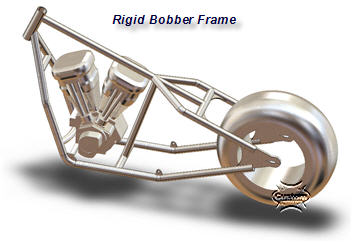 This gives you a lot of freedom in the size of engine and the look you are going for. Our chopper frame blueprints also give a lot of extra space for transmission as well as other features if you wish to customize the bike. I personally like the look of sheet metal styling and other features. This open frame makes it easy to customize how the engine will sit. You can locate the engine using the mounts provided on the down tubes. The concern with engine size would come into play IF there was a down tube from the backbone but since there isn't one on this frame design, it should not be a huge issue. There is plenty of space there for various sized engines.
On the other hand our bobber frame blueprints have a very unique old school look and feel. And they are a big hit. You will be limited in terms of the type of engine to use, but that might be a good thing. However you can modify it as described below.
Custom brackets would need to be attached to these mounts based on the engine size picked by you.
Also keep in mind that you can size your gas tank appropriately in order to give it the correct "look" so that it goes with your engine. That's the beauty of choppers - No two are alike!
If there is still a concern, please feel free to let us know what engine you are thinking about using and I can review and make sure it fits.
Bobber Frame Blueprints Question Number 2: Rake And Trail?
Answer: The design is definitely adaptable and the rake angle can be updated as needed. Clearance to the ground should be sufficient if you want to adjust the rake angle. If you are planning on doing a raked tree, then it should also work out fine. If you provide a rake angle along with a trail, and also a tree angle if any then we can take a look at it and see if it will all work out. Most likely this should not be a problem unless you are looking to do an extreme angle. The current design is for 40 degree rake angle and this can easily be modified by adjusting the length of the backbone. Please feel free to let us (below) know if I can provide further clarification.Would You Like A Custom Set Of Plans Created? Click here to learn more about getting your own set of custom plans designed.
Want Custom Made Bobber Frame Blueprints? Do You Want Custom Plans For Your Bike Building Project? Contact Us For A Custom Quote.
Bobber Frame Blueprints Question Number 3: Built In Tranny or Separate?
From Johnny: Hey, I bought your hard tail bobber blueprints. However I was a little excited when I bought them and started building and now I ran into a small bobber problem. I noticed after the frame is almost completely done that the bar that goes from the backbone to the crossmember is made to fit an engine that has a separate transmission! This is where my problem lies! I have a motor with the tranny built in. And it won't fit if I follow the plans as drawn know. So I was wondering if you had any tips or tricks that allow me to fit the motor I have in the frame so I don't have to start all over again? Take in account I have an 1982 Yamaha virago engine (it's about the size of a standard Sportster motor) and I have not welded the frame together completely yet. I have the backbone welded together but not to the lower half yet so I have some room to play of necessary. Thanks for all your help and I hope to hear from you soon .
Hello Johnny,
I've reviewed the design and have a few options available for you. First of all the center bar has to go so that your engine and transmission can fit. This center post plays a significant role in strengthening the frame and may compromise the overall strength if it is totally eliminated. Because of this, you'll have to add in additional support members for reinforcement. We have another frame that was designed to provide an open area in the center for large engines and transmissions. It was made for this purpose specifically. I have included a photo for you.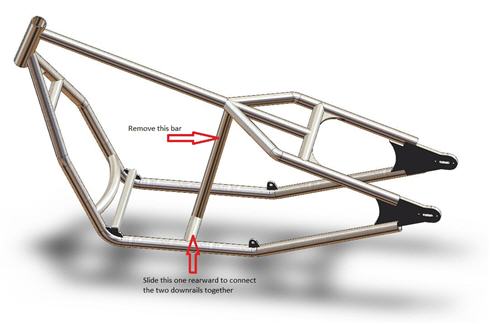 What you need to do is add a straight support member from the backbone to the front part of your down rails. Make sure to adjust this so that you have enough room for the front end of your engine.  The second item you'll have to do is add some support beams at the rear end on the out sides connecting the rear forks to the down rails. Please see the photos as I have add some arrows pointing to what you'll have to add.  Keep in mind that the specific frame we sell has curved bars at these locations for styling. You can easily just go with a straight bar if you'd like.  
I think your design intent was to show off the large engine and transmission. This kind of layout will do just that. Let me know if you have any other questions or would like further clarifications.
Problem With A Tough Radius Bend? Read This.

Sincerely,
Custom Choppers Guide 
Didn't Get The Answers You Wanted? Ask Right Here...
---
What Are Your Thoughts...
What Are Your Questions, Comments, Or Suggestions On Our Bobber Frame Plans?
What Other Visitors Have Said
Click below to see contributions from other visitors to this page...

---
Bobber Frame Blueprints And Related Products:
---