200 Series Motorcycle Frame Plans (Old School Bobber Chopper Style):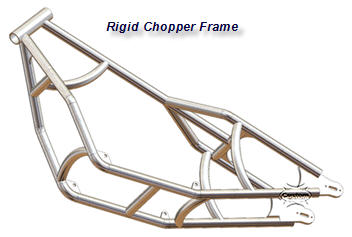 New! Introducing a professionally designed motorcycle plans (200 series chopper style) -- so you can build your very own killer old school motorcycle. 
Painstakingly Designed And Tested By A Senior Design Engineer:
The frame measurements are as exact as they can be including load tests and more. For example here is (part) of the Finite Element Analysis completed on these rigid motorcycle frame plans...
Frame was tested with a load of 10,000N force loaded on the center support for the seat as well as the center support for the engine. 10,000 N = approximately 1000 kg or 2200 lbs.
Chopper Frame Design Specifications:
1.5" Tube Design

Rigid Tail Design

Frame Width = 13.5"

Rear Axle Plate

Distance = 10.5" (200 Series)

Material - Standard Mill Carbon Steel
The motorcycle plans will be printed and delivered 36" x 72" in size. 
"Sectional" views make our motorcycle plans unique: Sectional views shows you how the frame would look if it were cut at a specific plane. This gives you a tremendous advantage because it's the only way to specify the compound bends and angles. Other plans show you multiple horizontal and vertical dimensions on multiple views which is very hard to understand, cluttered, and sloppy.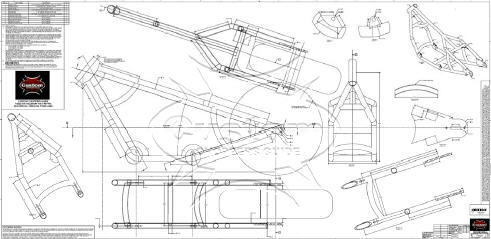 The motorcycle frame plans you will get reveal angles clearly instead of multiple dimensions on the front and side views.

A builder should be able to look at our motorcycle plans and create a frame without any problems. These drawings are very crisp, clean and clear and it makes the drawings look nice and they are much MUCH easier to follow than anything else you will find, guaranteed.
How Much Are These Chopper Plans?
If you order right away I guarantee the price will be just
$49.95
$29.95
As you will discover, these motorcycle plans are the best on the market because other motorcycle frame designers simply don't have the skill or education to create plans that have multiple sectional views and organized in a way that makes them fun and easy to follow. 

The price will got up to $49.95 or more, so order now while the price is still low...
---
---
Additional Technical Details Of The Rigid Chopper Frame Plans

Frame can withstand load of 2200 lbs without any significant material failures. Slight deformation occurs of 0.07" with this extreme load.

Engine load as well as a persons load will most likely never exceed this value and the frame as designed should be sufficiently rigid for this application.

All connections between the tubes were assumed to be perfect. Welds in real life are not perfect and can fail much earlier than this load. Sufficient gussets should be added to the frame based on where the maximum loading will occur. The provided gussets should be adequate. Please note design and safety disclaimer on the drawing.

Standard steel tubing obtained from mill was used for this analysis. Stronger steels such as structural steel tubing will make the frame more rigid. Please read all notes and details on the drawings regarding welding and proper material usage.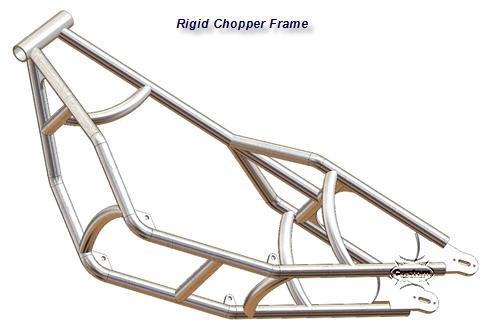 These plans are unique in many ways (see below). Notably, they were designed by our senior design engineer who used cutting edge (enormously expensive) software that requires months of training to use, and he had his worked triple checked by another engineering department.
In other words you are getting expert level motorcycle frame plans. Not something that was created on a kitchen table, and certainly not copied. They are totally original...
---
---
---
More Motorcycle Frame Plans:
Bobber Frame Blue Prints (Hardtail and Softail)
Motorcycle Frame Jig Blue Prints
All Frame Plans, Jig Plans, Fork Plans, and Forward Control Plans
---
---
---
---