7 Chopper Building Book Reviews!

Building your own bike can be a real challenge, but with the right tools parts, spare time and elbow grease it is possible. There are many books out there promising to teach you how to build the bike that will turn heads, but not every book delivers its promise. Depending on what you are looking for, here are some books that have helped others build the bike that cannot be found at any dealer, but in their garage alone.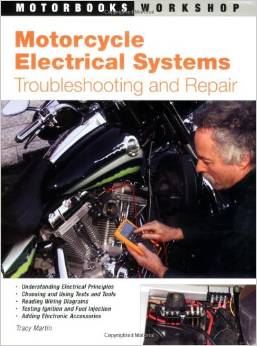 This motorcycle electrical troubleshooting book is written for the average garage builder and the professional in that it does not use language that is too difficult to understand, it doesn't sound condescending, and it doesn't sound like a sales pitch for tools and accessories.
What I like most about it is that goes over most of the most important parts of wiring from the bare basics to the more advanced areas. For example you'll learn about instruments for testing, different types of electronics, how to troubleshoot, and some ways to shorten the work time without sacrificing the quality of work.
What I also liked about this motorcycle wiring manual is that the author provides you with circuit diagram problems that will turn a beginner into a more knowledgeable electrician, and it's challenging for the more advanced builder as well. I believe that this area alone is worth the small investment in the wiring manual.
One of several areas that taught me something new was on the section about ohm-meters, and his lecture on voltage drop testing. I think you'll appreciate this as well.

I'm pretty sure this is going to save you some time and money. Maybe even save your ass!
How to Build a Bobber on a Budget by Jose de Miguel outlines how to create your own custom bike without breaking the wallet. Miguel instructs the reader in simple, conversational terms, almost as if a friend has come into your garage and is talking you through each step.
Miguel focuses on how to build your bike for less money by helping you uncover the equipment that you already have in your shop that you did not know would help you out and that can be easily altered into motorcycle parts. After finding the right parts, he takes your Frankenstein bike and shows you ways to make it look tough, just the way you want it. 
How to Build a Cheap Chopper by Timothy Remus, Remus makes it pretty obvious that no one should have to spend $30,000 on a motorcycle. His book is lightweight but packed with advice on how to build a cheap bike that is just as impressive and powerful as any of the brand name bikes on the market. His book is short and to the point, showing you how to build four different kinds of choppers for $5,000 or less.
He shows you how by taking you into the shops of world famous motorcycle designers, Brian Klock, Dave Perewitz and Donnie Smith. The book contains more than 400 detailed pictures of things like their shop, tools and bikes. Remus also goes into detail about how to build a Metric Chopper with a Japanese 4-cylinder engine, transmission and a hardtail frame.
For the bikers that would prefer a custom chopper in less time, Remus also shows you how to convert Sportster and Buell drivetrains into a bike that turns heads. Last, but not least he shows you how to build the twin chopper, which is a bit more expensive, but extremely powerful. 
Most of the time we assume we'll make our bike in the garage, but if your garage is used for storage, where are you supposed to build? In How to Set up Your Motorcycle Workshop: Tips and Tricks for Building and Equipping Your Dream Workshop, Masi outlines strategies to turn any space into a functional shop for your motorcycle. Masi turns what could have been an organizational self-help book into a conversational, easy to read guide. You quickly learn how to design, build and stock your workshop on your budget.
First he shows you what electrical power you are going to need. Then he shows you how to light your space, heat it and cool it so you can work at any time and in any temperature. After getting everything organized and ready, Masi shows you the tools that every workshop needs and how to use them (of course, you can skip that section if you know how to use them already). This third edition book comes with photos, layouts and advice on how to save energy. It is a great book for those that need help organizing everything before getting to work on building a custom bike.
Chris Callen from Wolfgang Publications and Cycle Source Magazine has written his own book called, Custom Bike Building Basics. Callen has been writing articles about building your own bike forever so it makes sense that he finally wrote a book to help you get started on building your custom bike. The book is a culmination of his articles, giving you access to a lot of knowledge in one place.
He shows you how to set up your workshop and what tools you need. Custom Bike Building Basics includes tons of detailed photos of new building techniques and he also gives you new ideas that most first time bike builders would not ever hear. Callen does not lose his humor that you see in his articles in this book either, making it a humorous guide to get you going on building a custom bike.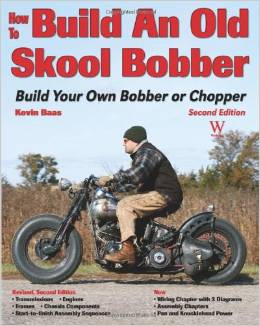 Kevin Bass shows us that building a bobber can be a little easier with the right steps. Starting with just an engine, frame and some imagination, you can get started with How to Build an Old Skool Bobber: Second Edition. This book is an improvement on his first edition because it has complete component-by-component breakdowns and purchasing guides to help you build the bike you want.
He makes the instructions really easy to read, especially for first-time bike builders. He includes great photos in each section of frame construction, engine selection and maintenance as well as detailed instructions on wiring to help you get on your way to a tough looking bike.
Finally, if you are an evil bike building genius, then you need Bike, Scooter and Chopper Projects for The Evil Genius by Kathy McGowan and Brad Graham. McGowan and Gram have written a really hilarious book all about transforming your old bike into a mean, lean, pavement-pounding machine. They show you that it is okay to put a little artistic flair into the design of your bike while still making it look tough.
They also explain how to save money and energy on the entire process. Most of the bikes they build can run off of the energy from their own home electricity or the sun with just a push of a button. It is cool enough that you can build a bike on the cheap. Now you can make one that does not require any gas. If you are into making your bike a little "greener" then you might enjoy the processes described in this guide to building a better bike.