Motorcycle Trailer Plans!

Our new motorcycle trailer plans makes building a trailer easy. It's 43 pages of detailed views that are simple to understand, and the final product will work well, last a long time, and you can use it for more than just hauling bikes...
Want Single Rail? See Our Single Motorcycle Trailer Plans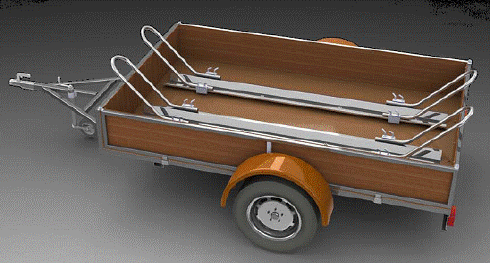 43 Page Guide Makes It Easy To Build:
If you want to build a trailer without tons of headaches, save some serious money, and have a trailer that is heavy duty, lasts forever, and can double as a hauler or box trailer, then this is for you.
Motorcycle Trailer Features:
Gross Vehicle Weight (GVW): 3000 lbs.
Box size: 110" x 70"
Motorcycle carrying capacity:
Removable bike supports
Removable side panels and rear panel
AL-KO U 29 axle with torsion rubber suspension
Electrical brakes
The price of this 43 page set of custom motorcycle trailer plans is just $69.95 $9.95.


---
 More Details:
The bottom line is our 43 page set of motorcycle trailer plans are are simple, detailed, and easy to follow.
The custom motorcycle trailer blueprints are made for a multipurpose trailer which could be used as a box trailer and a motorcycle carrier.
Here is a look at the trailer with a simple platform to load the bikes...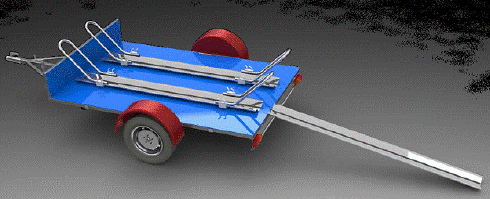 The trailer is running on an AL-KO U 29 axle with rubber torsion elements and brake system. The GVW (gross vehicle weight) being 3000 lbs. The trailer should be fitted with a brake system. We are recommending an electrical brake system for this weight class.
The manufactured parts for this custom motorcycle trailer are shown in the plans.
If you want this trailer to look a little more custom you can modify it to satisfy your creative side. Make it match your custom bike! Think of this design as your template to work off of. Or, just ad killer rims to it.
Here is another look...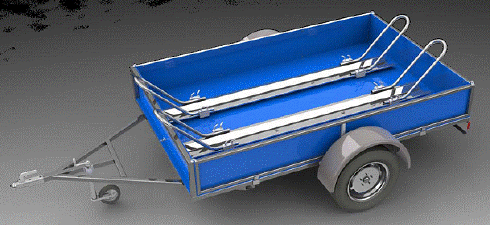 To make these plans easy to follow we kept it very simple and functional. Function is more important when it comes to tools and equipment, right?
This 43 page set of motorcycle trailer plans is just $69.95 $9.95.

---

---
---
Related Product:
Single Motorcycle Trailer Plans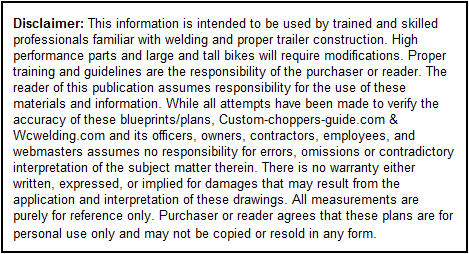 ---