Chopper Trailer Report!
A chopper trailer for your custom motorcycle or cruiser can be a great investment, one that really pays off in convenience and safety over time.  Times will arise that your chopper breaks down and you need to transport it to your home or shop for repair. There are times you'll want to take your motorcycle along with you on a family car trip so you can enjoy the chopper at your destination.  The reasons for wanting or needing a chopper trailer are just about as many and varied as there are choppers to place on or in trailers.
Any chopper trailer, or for that matter any type of trailer pulled on the roads, is required by federal law to have certain equipment.Working tail lights, brake lights, side lights, side and rear reflectors, backup lights, and turn signals are mandatory everywhere. Each state may also have other requirements, so you'll want to check with your state and any states you may plan to pull your trailer through to ensure it is road legal. 
There are two main types of custom motorcycle trailers: open and enclosed. An open trailer is constructed on a frame and includes a bottom, which may be solid or not, and side rails along with a rear gate of some sort. An enclosed trailer includes a frame, usually a solid floor and an enclosure box with roof, enclosing the motorcycle completely. 
Side Bar: If you don't mind a utilitarian look to your chopper trailer, or in other words, you don't care if your trailer has 'bling' or not, a trailer that can be easily modified to fit one or two bikes, or used as an ATV or Utility trailer is a good investment. You can buy or build a trailer just for bikes, but if it can be used for other jobs or hauling, it's a better investment. 
Trailer Design We Are Working On (Final will accomodate one or two bikes):
Utility Trailer Conversion. Our New Design Can Be Adjusted To A Utilty Trailer: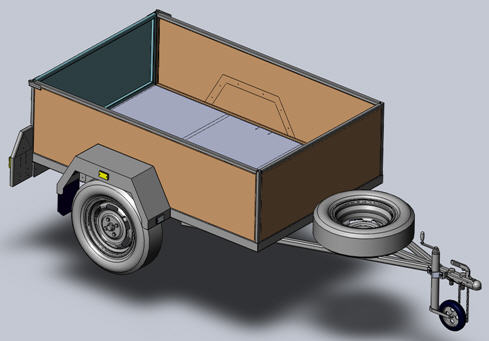 Open trailers may be flatbed or rail design. The rail design means that the frame supports a rail channel into which the bike is pushed and then strapped down. A flatbed trailer means there is a flat surface in the trailer bed onto which the bike is loaded. A big advantage of the open trailer design is ease of use. Some trailers include slide-out ramps, or you may build a set easily, which allow the motorcycle to be push easily onto the trailer. There's no need to worry about bumping your head on the top or making sure you cleared the door hinges on these trailers. 
However, your chopper is not keep from public sight, or protected from weather and road grime. It is difficult and pretty impractical to attempt to cover the motorcycle with tarps if you plan to transport the trailer at highway speeds. This type of trailer is great for the person who wants a means of bringing their chopper to the shop or recovering it when there is an engine problem on the road.
An enclosed custom motorcycle trailer has the advantages of providing security for your motorcycle since it is out of public view and safely locked inside the trailer. This type of chopper trailer also protects the bike from weather and dirt. The downside is that loading a motorcycle into an enclosed trailer can be, to say the least, a bit tricky. Unless you purchase a very tall trailer, you'll need to duck your head to push the chopper inside the trailer. Dinged knuckles are often experienced when learning the best way to fit a chopper inside a new trailer. Enclosed trailers are, however, more practical for long trips than open trailers. 
A chopper trailer may be manufactured using steel or a combination of alloy and steel. Many of these trailers incorporate steel or alloy only for the parts which require strength, using aluminum or fiberglass for other portions of the trailer. For example, most enclosed custom motorcycle trailers are not made of steel but have a steel frame and aluminum or fiberglass enclosure box. 
Always be safe when using your chopper trailer. Strap your bike in well so that it can't shift and get damaged. Stow equipment in or on the trailer with your chopper carefully so that it does not shift into your bike.
Related Product: