How To Build A Bobber!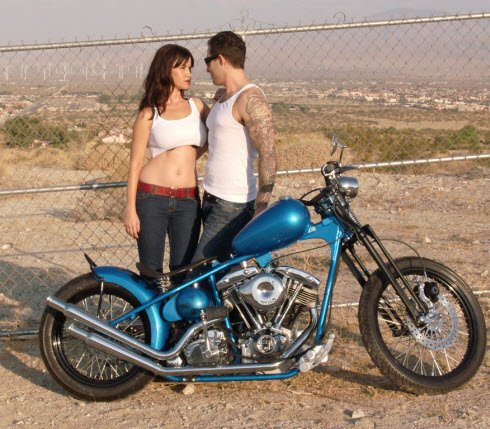 Learn how to build a bobber and you'll have the knowledge that most people wish they had. And if you actually build it you'll have the skills that are the envy of metalworkers and craftsmen around the world.

It sounds a little romantic doesn't it? Well, most people dream about building bikes, and building a bobber is one of the most popular choices. But less than 1% of those dreamers actually learn how to build a bobber and have something to show for it.
So What Does It Take?
All bikers have their own vision of what a one-off bike should look like. Or they have their own preferences when it comes to factory built bikes. 

Some like the Sportster style, some like the old school chopper look, and others are passionate about bobbers.
In my opinion bobbers are bad ass, and they handle better than raked out choppers. But then there are others who think they are ugly and don't like the way they handle.

Here's a basic blueprint on how to build a bobber:
If you have never built a bike before and you don't have any metalworking skills (particularly welding) then you should start with a bobber kit bike, or a bobber rolling chassis.
Must read: Lukes Shovelhead Bobber Build
Get a bobber rolling chassis if have some skills in modifying or working with metal because when you may get a rolling chassis that you'll have to modify to fit the engine and other components. But some already have the engine mounts for specific types of engines.

Another option is to ask the manufacturer of the rolling chassis to do all the necessary mods for you. You can get a bobber rolling chassis for anywhere from $900 - $3000 or more. It all depends on what you want. But the good news is you can let it sit and build your bobber piece by piece over time as your budget allows.

Here is an example of a good rolling bobber chassis that is well priced and built by Malibu Cycle Works: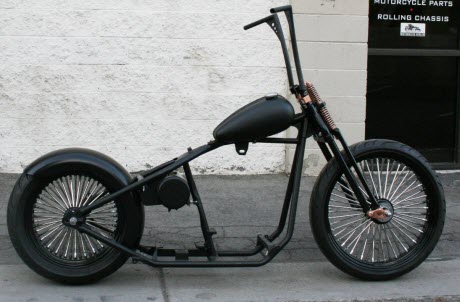 This rolling bobber chassis was built to house a Harley Evo engine. It's a rigid frame, which is what a traditional bobber was. However, you can do what many bike owners do and get a softail rolling bobber chassis. Just hide the swing arm or shocks because you might get a little flack about it.

Here are the features:

Thirty degree rake.
Left side drive.
Oil tank is custom made.
Springer front end.
Wire wheels and Avon tires.
Gas tank is custom made.
Fender (rear).
Ape hanger handlebars.
Kickstand.

A little more advanced way to build a bobber is to buy a frame and add parts to it as you go along.

This is an example of a hardtail bobber frame: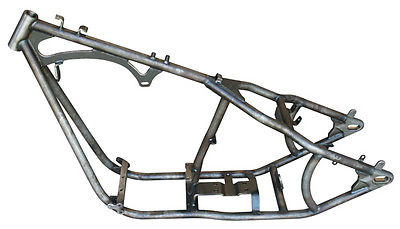 This particular frame is a Tig welded Ultima hardtail.
It's a 34 degree rake.
The downtubes have been stretched four inches.

It's made from DOM tubing.

The tire size is for a 250 millimeter tire.
It comes with a rear axle kit and oil tank mounts.
Project Bikes:

If you don't want to buy a frame or rolling chassis you can buy a project bike and convert it to a bobber. This is a very common thing to do. But some bikes are easier to 'bob' and chop than others.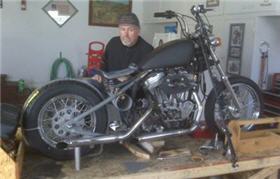 Project Bike Tip:

I recommend you buy a project bike that was or is very popular so that you won't have difficulty sources parts for it. Because when you buy a bike that needs to be restored and when you chop a motorcycle you will need parts. And there are few things more frustrating than looking for parts that are hard to find, and when you do find them the guy selling them wants an arm and a leg for them.

Hardtail Bobber Conversion!

If you want to build a bobber and you want to take the easiest route and pay the least amount of money without sacrificing looks, get a hardtail weld on kit for your project bike.
Most projects bikes for sale are going to be softails. So the first thing you will want to do is convert it to a hardtail bobber.
To convert a softail to a hardtail bobber you need to remove the swing arm and then weld on this hardtail rig. This is actually easier to do than it looks. But if you don't know what you are doing you should have a professional do it for you.
Here is a weld on hardtail for an XL Sportster by Bitterend Old School Choppers: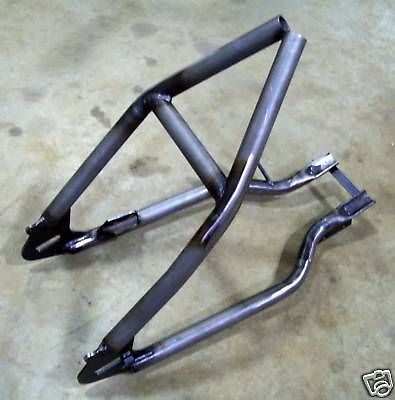 This weld on hardtail fits up to a 200 millimeter tire and belt, or you can stick with the stock set up.

Here's How To Build A Bobber By Converting Your Softail Sporster To A Hardtail With This Weld On Kit:
Sportsters are expensive project bikes and many Sportster owners don't want their 'baby' chopped or bobbed. But you can find other bikes that are not nearly as expensive, and finding parts for them are not difficult.

For example, you can build a bobber from a XS650. This motorcycle is a very popular bike to convert to a chopper or bobber due to the fact that you can find them for a good price, and there are tons of parts available as well.

This weld on hardtail kit by TC Bros is for an XS650:

With this kit you'll be incorporating three inches of stretch and the ground clearance is five inches. The tubing is 1 1/8 inch with a .12 inch wall. Why they didn't go with 1.25 inch, I do not know. Maybe because an XS650 is 1 1/8.

Here is what this hardtail kit looks like after completion:
Your Front End:
If the look you want to achieve is an old school bobber, then you should get a springer front end or a girder front end. However, there's nothing wrong with a hydraulic. It's just that the hydraulic forks, whether they are standard or inverted, give it a more 'new school' look. And bobbers are supposed to be old school.

This is a DNA tig welded springer front end: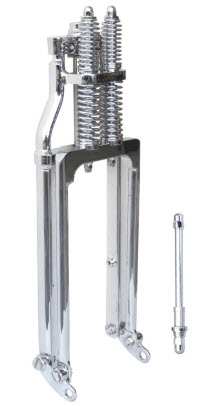 The length of these springer forks is 24 inches, which is measured from the top of the triple tree (lower one) and down to the axle center. And it fits 1988 - 2003 Sportsters, aftermarket frames that have one inch neck bearings, and most Big Twin motorcycles.
There are many different types of springer front ends on the market. But kKeep in mind that you can also build or have a custom set of springer forks or girder forks.
Do You Like Peanut or Wasp Fuel Tanks?
The wasp fuel tank is a Drag Specialties and comes in a single cap as well. The peanut fuel tank is a Vtwin Manufacturing model.
There are many different styles of fuel tanks you can customize your motorcycle with, but the wasp and peanut styles are considered to be more retro than the tear drop. The fuel tank plays a big role in the look of your ride, so choose wisely.
Solo Seats:
A bobber differentiates itself from a chopper in several ways. One notable difference is that a bobber has a seat for one rider (this is called a solo seat; a bobber seat). And a solo seat with springs is a true bobber seat (you'll want the springs for your hardtail).

So when you build a bobber you will convert your bike to a solo seat like this one: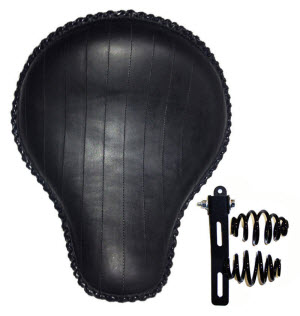 This seat comes with just a seat and springs. But depending on your bike you would need a way to attach it. Some places make seat mounts specific to certain bikes. Some people fabricate there own way to attach seats.
If you are good at working with metal, welding, and reading plans then you can build a bobber from the ground up. Bobber plans are highly recommended. Nothing is better than following a set of bobber frame plans. After all, you want your frame to be solid, reliable, and done right.

Should You Build A Bobber Frame?

Building a bobber frame without plans is like trying to navigate your way through the Pacific without any navigation equipment. It can be done but it will take longer, is risky, and you might have to get emergency help.
So if you don't have a lot of skill working with metal it's recommended that you learn how to build a bike by starting with a kit bike, a rolling chassis, or get a project bike and convert it. After you do that you can do a ground up build.

After you accomplish something like that you'll know what to do and the job will be much easier and more fun as you continue down the road of bike building.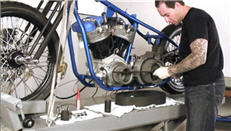 More Building Tips:

To get a good education on building a bobber this bike building DVD set is the best of it's kind for just $50. It's called Build Your Own Bike. The bike he builds is a killer bobber chopper.

If you have a little metalworking and welding experience then get bobber plans and build a bobber from the ground up (with a little help from the guides above. Our bobber frame plans are the best in the world. Really, they are.

Resources:

Copyright Custom Choppers Guide All Rights Reserved.