Bobber Kits Guide!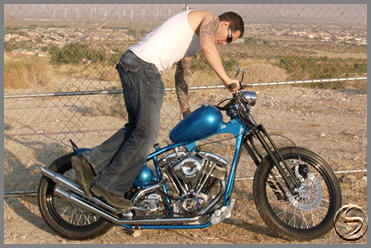 Bobber kits are an excellent alternative to buying, building, or turning your bike into a bobber. But before we discuss all the kits, here is a little history behind them.
Men in the military returning home from WWII were the first to build bobbers as a way to get a little excitement. After storming beaches and dropping by parachute into enemy territory, their suburban lives must have seemed a bit dull.
While in the military many of them had gained valuable experience as mechanics on jeeps, tanks, and other equipment used in the war. While most were not mechanics by trade, they had learned a lot while over seas. 

There weren't any bobber kits in those days because bobbers were all about stripping down bikes. The term 'bobber' was just being coined. The term 'Bobber' came from the fact that like women 'bob' their hair, the men 'bobbed' the fenders (took the off or chopped them), and stripped them down.
They are generally just the bare bones of a motorcycle, with out any non-essential parts. Complete bobber kits have everything you need to build a complete motorcycle, all in one box. 
But there are more options to consider than a complete bike in a box, which we will discuss.
The Truth About Bikes In A Box Kits!
There are very few complete bobber kits on market these days.  Several years ago manufacturers like Custom Chrome, and MidWest made some pretty nice motorcycle kits. The Aces High Bobber kit by MidWest was pretty nice, but it's no longer made. 
Top 3 Bobber Kits!
There are only two are three small businesses that have complete kits that are worth considering, in my opinion. The best kit out there right now is the original bobber kit made by V-Twin Manufacturing: the 1941 Knucklehead Bobber Kit. It is as close to building an original 'Bobber' as you can with a bike in a box.
It's also the only Kit that will be worth more than it costs to build after it is finished.
This Knucklehead replica is a foot shift model and is designed with the 1940 bobber style along with replica parts to make it more authentic.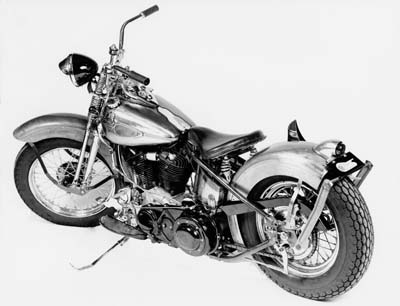 Here are some of the features of this bike:
Four Speed tranny.

Knucklehead frame (exact replica).

28 inch springer forks (inline).

16 inch rear wheel (chromed).

18 inch front wheel (chromed).

Bobber gas tank (two piece tank).

Knucklead engine.

MSO for the frame and engine.
According to some dealers it has been very difficult to catch V-Twin with all the parts at the same time for the kit and they are finding it difficult to sell more than a couple of their knucklehead kits per year.
There are not many companies still offering complete bike kits anymore, and the market for custom builds have gone down, with the exception of replicas, and rebuilds of classics, which still do very well.
If the Vtwin Knucklehead kit is hard to get then it would be very easy to get a rigid frame, springer frontend, risers and handlebars, wheels, tank, flat fender, seat, your pick of engine and drive-train, and almost everything to build that bike, it is nothing fancy, but it would not be a "kit", and it would not be at the prices that those kits were sold at. 
However, it would be easier and you can buy the parts piece by piece if you don't have all the money.
The second complete bobber kit is made by Amercian Classic Motors. It is really nice as well. It's more of a modern day bobber versus an exact replica like the Knucklehead bobber above.
Here are a few of the features of this bobber kit:
100 inch chrome Revtech motor.

Five speed trani (Revtech).

30 degree raked Kraftech frame.

Springer Forks (DNA frontend).

And lots of other quality components.
The third complete kit is by Sucker Punch Sallys. I am showing it on this list of bobber kits because it looks like a bobber but they are advertising it as a chopper kit.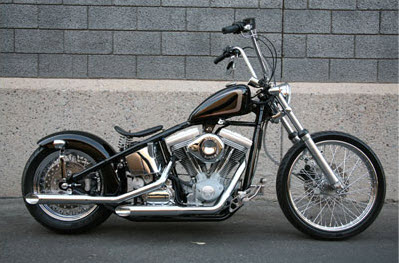 Here are just a few of the features of their complete bike kit:
96 inch Evo, a 93 inch Shovelhead S&S engine. Or you can choose a 93 inch Accurate Engineering shovelhead.

Springer front end.

Sportster gas tank (King sporty).

17 inch rear wheel (chromed).

16 inch front wheel (chromed).

And more!
Those are the top three bobber kits on the market in my opinion (and pretty much the only quality ones available).
Bobber Rolling Chassis Kits:
There are other options to building a bobber motorcycle other than buying a complete kit. For example, you can buy a rolling chassis and then add parts as you build.
This is a good alternative for the you and the bike shop, builder, or dealer, because putting together a complete kit that is cost effective is very difficult to say the least.
But a bike shop can put together a few rollers together ready to ship in a few days. There are many rolling chassis you can buy on eBay and locally if you search on Craigslist.
However, buy from a reputable company. Here is one example of many bobber rolling chassis. This one is by American Classic Motors. It's a Sportster bobber rolling chassis kit, 250 wide tire.
Here are the features:
Spoked wheels (60 of them).

Chromed rims and billet hubs.

250 tire size hardtail bobber frame.

34 degree rake. 2 inch stretch. Original rake and stretch (OE). Axle included.

Fits a Sportster XL motors.

Front end: chrome billet. The front end is produced by Demon's Cycle Inc. out of South Florida and they are hydraulic.

The ground clearance based of normal tire sizes for this set up should be around 5".
A rolling chassis is one of the better alternatives to buying bobber kits because you can get a very high quality one like the one above for a fairly low price.
 And if you plan your build out properly you can build it piece by piece until it's ready for paint. This nice quality bobber rolling chassis is sold by Demon Cycle, and it is a Softail Springer. This frame fits a Harley Davidson Engine.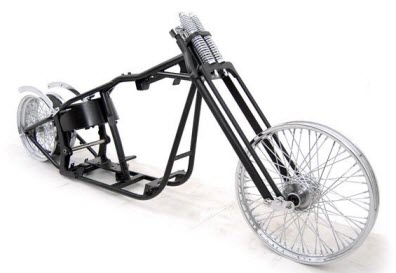 Features:
Bobber Conversion Kits:
The next alternative to consider is using your current motorcycle or buying a project bike and converting it to a bobber. 
Most bobber enthusiasts consider a true bobber to be a hardtail motorcycle for starters because that's what the bikes in the 1940's were. 
So a lot of builders will take a bike like an XS650, Sportster, or softail and convert it to a hardtail. After that they strip the bike down of all unnecessary parts, change the front end to maybe something a little more authentic or old school, like a springer or maybe a girder.
And then 'bob' the fenders. Here's an example of a Sportster hard tail conversion kit by Road6Customs:
This conversion kit is for a 1982-2003 Sportster. It is ready to install and includes the following:
Weld On Hardtail (DOM tubing. 1.25 inches).
Oil Tank: built for just for this conversion kit. All hardware included. Pressure tested!
Battery Box: it covers the old swingarm area you are left with aftering chopping your frame, so your end result looks awesome!
Axle: made just for this hardtail as well, and it fits!
This is a great project because it's not difficult, and you don't have to take out the engine to convert your Sportster.
Here's What A Hardtail Conversion Can Look Like!
According to Road6Customs, their conversion kits are the way to go because the low cost Chinese made conversion kits only weld to the top of the frame and then you have to use bolts for the bottom.
Their kits weld to both the top and the bottom of the frame, and they use the bolts for the tranni to line the frame up. This is ideal for a quality conversion.
Plus, the DOM tubing on the hardtail is welded together us the TIG process, which is the best process for welding frames together (don't get me wrong, you can also stick and MIG weld frames but the consensus is that TIG is the best way to weld a motorcycle frame).
Here is another bobber hardtail conversion kit example by Ryca for a Suzuki bobber (S40 Savage):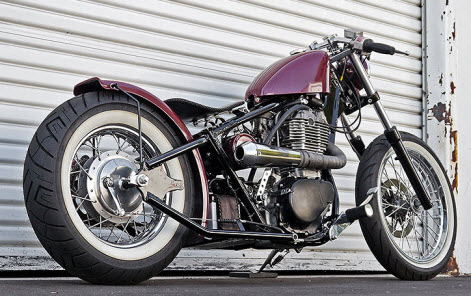 How Much Are The Bobber Kits Above?
Rolling chassis kits start around $2500, give or take. Complete bobber kits start in the $16,000 range and go up to $22,000 or more depending on the quality of the kit. A quality conversion kit like Road6Customs is only about $800.
Related Articles: