Submit Your  Ideas And Read About Other Custom Chopper Projects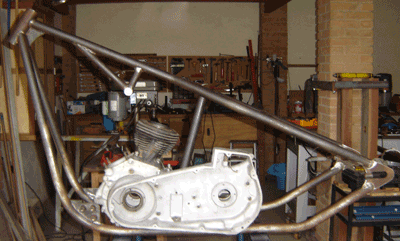 If you have a custom chopper project, part, or you are just customizing your bike, here's why you should share it.
We get lots of bike builders and future bike builders asking lots of questions about building frames, parts, and completed bikes.

So we got to thinking, maybe all of our subscribers would like to see what other people are building. 
We love it when we get a picture of a new build or a custom part that one of our subscribers put their blood and sweat into. Just like the hardtail frame pictured here.
The frame picture here was built by one of our subscribers.

The cool thing about many of these pictures and stories is it's not just about the finished product. It's about the story behind it. Sure, a nice picture of your build is always good. But how it was made, and how you came up with the idea is what it's all about. But unfortunately we couldn't make the time to write about it and put it up on our site.
But now you can!
Why not share your plans to build, or your current bike build with everyone? Even if you are working on a custom part, or you are putting your wiring together, I guarantee everyone will want to read about it. And if you have a picture, that would be perfect.
Write As Much As You Can (200 words or more if you can) and Include At Least 1 Picture!
You don't have to be Hemingway to write something, and you don't have to be Ansel Adams to submit a picture. Just about anything you've got will be interesting. Don't think about it, just write about it and submit a picture.
Hey, it will be fun for you and you'll probably get a bike building buddy out of it, or at least some good ideas or feedback...
---
What Are You Building or Customizing?
Are you planning to build, or are you building a custom chopper? Are you customizing your bike? Let's here about it...better yet, lets see it! Maybe you'll get a comment or two and get a building buddy out of it.
What Other Novice and Veteran Builders Are Saying
Click below to see contributions from other visitors to this page...

---
---