Suzuki 110cc Chopper Part 2
by David Stipek
(Chiang Mai, Thailand)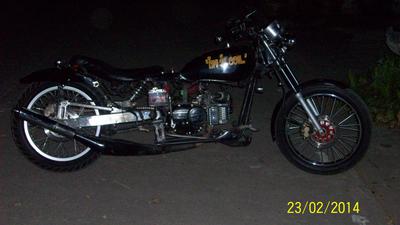 I had sent you pictures before and you asked me here for 1-3 more. I later decided I needed rear shocks. So I redid frame. At this time I made it work for any Honda, Yamaha, Suzuki or Kawasaki engine either 2T or 4T and up to 200cc Air cooled.


I added Honda NSR150 complete rear fork, Suspension, disc brake. It now has a 120/80/16 rear tire (rim). I can use up to a 150/70/16.
I also changed the front forks to Suzuki as they were 5" longer and gave me front disc brake also. Uses a 3.25x18 front tire (rim). I changed the engine to a 110cc Suzuki, electric start. Cylinder and piston 120mm over bore. Heads milled to give a compression ratio of 11:8 to 1.
Exhaust is opened up to accept 150cc sized tube (went from 7/8" OD tube to 1.25 ID tubing. Now it uses 95+ octane. Use 95 and Avgas at a mixture 60/40. Yes engine is 2T. Now it has a deep Bartone sound, not the high pitch 2 cycle.
Also when I started the project it was with Yamaha Y80 (Chromed Engine). I used 4 freewheels to transfer engine power to right side of bike. 1 on both sides of engine, one at pedals (crank) and one at rear wheel So if engine failed rider just needed to start pedaling. No need to hunt to find neutral or stop.
The gears from left to right from the engine gave me the same final ratio at Y80 Belle had. The gears from pedals to rear equated to the same as 40/24 (bike gearing, so weight had little effect. Also as long as it had light mirror and sound device. And I ride and ware a Helmet with no Licenses either for the Bike or Operator. That is why written on the Tank in Thai it says: "Thai One On...!" referring to Helmet :)