4 Custom Chopper Wiring Tips
iframe width="315" height="177" src="https://www.youtube.com/embed/zxnbmfHKu5o?rel=0" frameborder="0" allowfullscreen>
These custom chopper wiring tips may help ensure your motorcycle build project, whether stock, custom, or chopper, will operate properly every time you start it up.
Without proper wiring, in fact, the bike won't start at all.
Many safety features, including head lamp, tail lamp, turn signals, horn, and alarm system (if you have one) as well as creature-comfort features such as your electric start, will not operate without proper wiring.
The tips are below. But here's a videos you might enjoy (I put part 2 at the bottom):

The builder in this chopper wiring video has a Masters rating from Harley Davidson University and is a Harley Davidson Lead Mechanic. We highly recommend his custom biking building DVD. He makes everything easy to understand, and you'll watch it over and over. It's quantum leaps better than any American Chopper episode. I know, that was a little tongue in cheek, but it really is good, and if you don't like it, send it back.
---
Now for more Chopper Wiring Tips:
Wiring Tip #1 Follow the Wiring Diagram: If you are building a kit bike, a wiring diagram should be included. If you are rewiring a stock bike, the wiring diagram can be obtained from the manufacturer, dealer, and often can be found online. Use this diagram as a Bible, and do not decide to waver from it. Choosing another way to route wires can be useful sometimes, but the color coding and pin assignment will be completely useless if you suddenly decide you can wing it.


Wiring Tip #2 Fuses: Always add a fuse into each and every circuit you build, whether you are changing your existing wiring harness to add an accessory or replace a bad wire, or wiring a motorcycle from scratch. 
Do not simply tap into a circuit that exists which is fused. It is very easy to overload the circuit. It is wise to mount the fuse in close proximity to the ignition switch or battery so that a failed circuit or dead short will not cause your electrical harness to burn up before shutting down. Generally, it is a good idea to use fuse sizes that is close to 10% more than the load limit of the circuit being wires. If, for example, you are adding an accessory which requires a maximum of 20 amps, incorporate a fuse into the circuit that will shut down as near 22 amps as possible. So, in this example, you would select a 25 amp fuse since that is the nearest fuse size to the 22 amp 10% overload rule.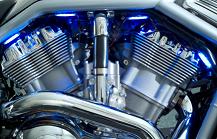 Wiring Tip #3 Relays: A relay is simply a switch which allows a connection between two or more terminals in the relay to exist. Relays are frequently black plastic boxes about 1 inch square which often have a mounting tab. Bosch relays are probably the most commonly used and are certainly affordable. But, there are lots of other relay manufacturers. The pin diagram of the relay will tell you how to wire the switch to create the circuit you want to complete. Relays serve several purposes:

A. A relay can send full power to an electrical device yet allow the switch for the device to use smaller wiring. This is necessary when running wiring through narrow handlebars or tubing which must operate high powered devices such as head lamps. 


B. Relays can divert power from one device to another using the same wire. An example of this application would be a head lamp wiring set up where the same wires but different positions on the switch causes the head light to be dim or bright.
Custom Chopper Wiring Tip #4. Check Wiring Regularly: Periodically, as you care checking fluid levels and chain snugness on your motorcycle, remember that a great wiring tip is to run your hands over each wire, feeling for cracks or other indications that a wire may need replacing. It is far, far better to go ahead and replace a worn wire than to end up having to do the job while stuck on the road somewhere.
iframe width="315" height="177" src="https://www.youtube.com/embed/Hxk-X9U9uC4?rel=0" frameborder="0" allowfullscreen>
---
Have An Opinion About This Wiring Video or Article?
Do you have an opinion or story about this motorcycle wiring article and videos? Share it!
What Other Visitors Have Said
Click below to see contributions from other visitors to this page...