Forward Control Plans For Your Custom Chopper 

These up-to-date, full set of forward control plans are the finishing touch you've been looking for. Here's what's included.
Two different brake control styles. The detailed illustrations show both the master cylinder attached, and another illustration shows the contol as remote.
As with all of our plans, they are crisp and clear, and they are the real thing. 
Rick Hedrick designed them, and he has almost 40 years of custom chopper building and fabrication experience working in his own professional shop.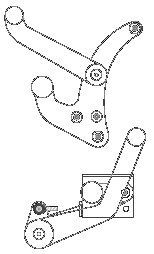 You will not get any fuzzy, out-of-date copies of someone else's average work. These forward control plans come on brilliant white industrial strength shop paper that will withstand shop notes, and they are worthy of a picture frame to be framed on your living room wall.

Price: Just $29 plus shipping/handling for these one-of-a-kind forward control blueprints.

Related Products: