Tips On Starting A Custom Motorcycle Business
Starting a custom motorcycle business can turn your hobby into a full time exciting venture. Motorcycles have become a lucrative source of income for motorcycle and chopper lovers.
From the novice biker to the veteran mechanic, the motorcycle industry offers many different career and business opportunities.

The bottom line is this: if you enjoy working on or with motorcycles, especially custom bikes, then a custom motorcycle business (or a career in the motorcycle or chopper industry) might just be right for you. And you don't even need to be a super knowledgeable biker or mechanic to enjoy a nice steady cash flow! Let me explain...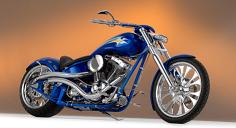 Many people start their custom motorcycle business right inside their home garages by building a single motorcycle, selling that bike, and beginning another build.
This is one way to start a motorcycle business with a small investment. Since you are putting out the labor for the build, the completed custom motorcycle should sell for quite a lot more than the cost of parts and materials which were purchased to create the motorcycle. 
Once other people see the great project bikes coming out of your garage, they may well begin asking if you can build a similar custom motorcycle for them.
The problem with this custom motorcycle business scenario is that it may be hard to find a buyer right away, and therefore the return on your investment may take a while to come to fruition. 
Here are 4 alternatives to help you pay the bills as you get started:
Buy and sell used motorcycles to help pay the bills. This can be a very time consuming endeavor, but it can be rewarding if you are willing to buy and sell used bikes while you get 'legs' in the custom bike building business. This is also a good way to build relationships, nurture potential customers, and learn more about the building process.   
Become a Trading Assistant. Some custom builders have full time jobs as they begin their custom bike building businesses. But another option is to find people with motorcycles they want to sell, and offer to sell them for a commission. Sure, this sounds like any old used motorcycle dealer, but here is an idea that may carve a niche in your area: Ebay Trading Assistant. This is a program that Ebay put together that allows you to use the Ebay name to help you attract people who want to sell their stuff. You charge a commission on the sale, and you get all kinds of benefits. Specialize in motorcycles and custom choppers and you may find yourself in a very good situation.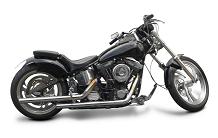 With that said, when starting a custom motorcycle business, you should learn about the zoning laws in your city or town. While building a single motorcycle which you sell will seldom place you in violation of local zoning laws, after neighbors see numerous bikes being built in your garage, they may well have something to say about the situation to the zoning board. Well before this happens, you can rent a storage garage which permits business operations to be conducted on-site and move your emerging business to this new location.
The advantages of moving as soon as possible includes the fact that you can work flexible hours without worrying about the neighbor's children napping or the adults sleeping and you can make more noise without complaints. This type of storage garage unit is readily available in most areas and may work perfectly for starting your custom bike business.
You will want to be sure to insure your business for liability, fire  and theft. The investment in tools and equipment required to build a custom motorcycle is significant and insurance will help you replace these items should your business be broken into or burned. Liability insurance covers people who could potentially be hurt while inside your business. For example, if someone tripped on an electric cord and broke their leg, your liability insurance would protect you from having to pay their hospital bills out of your pocket. 
You will also need to obtain a Federal Employer Identification (FEI) number and, if applicable, a sales tax certificate. The FEI allows you to report your income as a business and the sales tax certificate allows you to collect legally required sales tax and pay it into the state in which you do business each month.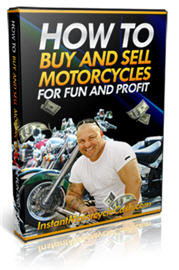 Marketing will be a very important part of your business. Get good at it and you'll find that attracting new business is a piece of cake. Start with Dan Kennedy's No B.S. Series and go from there.
It can be fun as well as profitable to turn your hobby into profit by starting a custom motorcycle business. You can spend your days doing something you truly love instead of working for someone else and, if you become successful, you can become an employer in your area.
This is not a comprehensive resource for starting a custom motorcycle business but it is a good primer that should help you get pointed in the right direction.
Top Rated Articles:

Recommended Product: