Success Story: Opening A Chopper Body Shop...

Viking Brown is opening a chopper body shop and here is what he has to say...
"I'm right in the process of opening up my own chopper body shop and your information is really helping. Without your instructional programs I would not know what I know now. Here are a couple of pictures of my chopper before, during, and after"
Sincerely,
Viking Brown
Before:
---
During:
---
After: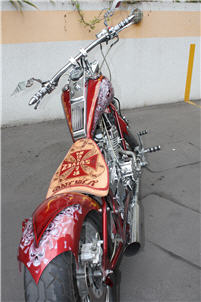 ---
If you like this success story, you're going to love the other ones we picked out. One of them is coming soon and we'll let you know. Be sure you're on our list.
In the mean time, browse our DVD guides.
Comment On Viking's Bike or New Body Shop
If you have something to say about Viking's Bike or new chopper shop, enter it below...
What Other Visitors Have Said
Click below to see what your fellow subscribers are saying...

---
Related Article:
Custom Open A Chopper Body Shop: Motorcycle Business Tips
---
---