If You Want To Build Your Own Chopper Here Is Why Our New 2-Disc Set Called 'Build Your Own Bike' Is The Only Guide You'll Ever Need!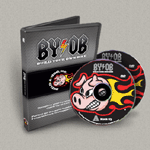 If you want to build your own chopper this is going to be the most important letter you read. Here's what this is about: 
Our new bike building training course on DVD called, 'Build Your Own Bike' will show you how to build a killer chopper from the ground up... 
Plus, with the insider knowledge you'll gain from this bike building course you'll save loads of time, and money.
Have You Already Built a Bike or Two?
I've got great news if you've already built a bike or tried to build your own chopper! You're going to discover how to avoid costly bike building pitfalls, and how to build a bike faster and enjoy the process more then ever... 


This new 2-disk set has everything you need to know to build yourself a ground-up or kit Chopper or custom street machine. 
Disc A – Mock-up. As you begin piecing together your ride in its naked, bare metal form, you have to make sure everything fits. If you don't, it's going to be an expensive mistake after you have had your ride painted!


Disc B – Final Assembly. You've got your frame and tins back from chrome and paint, what now? Step one—tap out all your threads. Step two and beyond are on this disk. 
Three Reasons Why You Should Get This 2 Disc 
DVD Set called, Build Your Own Bike!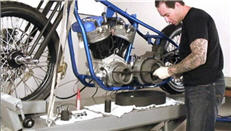 Reason #1: It was created by an expert bike builder and motorcycle mechanic, Michael Durham. Michael is a Motorcycle Mechanics Institute graduate, and has a Master rating from the Harley®-Davidson University. In addition he was a Harley Davidson lead mechanic for three years, and now teaches other students and mechanics how to build and repair bikes.
Reason #2: Build Your Own Bike is a professional production. You won't find a better quality video (DVD) on the market, and your host is fun and easy to watch and learn from (Michael Durham). And this is important when it comes to technical bike building information.
Reason #3: Build Your Own Bike is designed as a guide whether you've got a pile of parts in the garage waiting for you or you are just researching to build your own chopper for a future project. Michael's approach is methodical, all-inclusive but laid back and enjoyable to watch and learn from.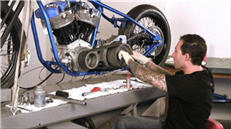 Common Questions About 'Build Your Own Bike'
Question: Do your DVD's just show you how to build a kit bike (or a bike in a box)?
Answer: Although this video can be used for bike in a box kits, the bike we built was built from scratch and will directly relate to people building a bike from the ground up using their own specific parts. It includes all the essential information to build a bike from the ground up.
Question: Does your DVD set show you how to weld a frame together?
Answer: No, it does not. You should get 'Building A Chopper Chassis' by Ron Covell if you want to build your own frame. But it covers everything else from the ground up.
The bottom line is this -- If you want to build your own chopper this is going to be one the best investments you make. Your small investment in 'Build Your Own Bike' will pay for itself almost instantaneously because you'll save yourself tons of time, energy, and money from the little known bike building tips and step-by-step directions.
You really can build your own motorcycle. Take the first step now and get Build Your Own Bike now...

---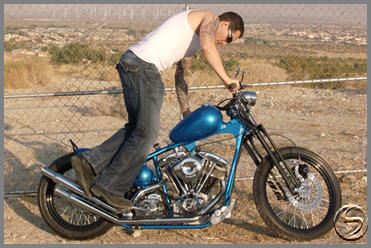 From Mock-Up To Final Assembly, Harley Davidson Lead Mechanic, Mike Durham, Shows You How To Build A Custom Chopper Step-By-Step.

Disc A Runtime 53 minutes
Disc B Runtime 95 minutes
With the 2-disc DVD set called 'Build Your Own Bike', you'll arm yourself with the knowledge to build your first chopper, or if you have experience building bikes already, I guarantee you'll learn dozens of tips and tricks you never knew about and you'll build your own chopper faster and easier than ever before. Learning how to build your own chopper motorcycle is not as difficult as you might imagine. It just takes a step by step approach, and this killer 2 DVD set will help you save time and money trying to figure it out on your own. Let a master motorcycle mechanic and bike builder show you the ropes.

---
A good supplement to this DVD guide is our downloabable ebook called Chopper Frame Alignment. How To Get Your Frame Straight: