DVD Reveals The Secrets To Building a Chopper Chassis To Fit Any Design!
"I found the video (Building A Chopper Chassis) to be well made, informative, and entertaining!"
American Iron Magazine

Click here to view a free preview of this DVD.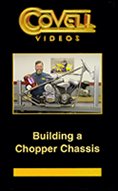 Finally a video that reveals how to design and build a solid chopper frame! In 'Building A Chopper Chassis', award winning Master Metalworker, Ron Covell, takes you through the entire process of building a professional chopper frame.
Ron begins with an eye-opening and important overview of frame design, explaining the concepts of rake, trail, and stretch. He covers the use of chassis jigs, then goes on to show how to bend and fit tubing to create a chopper frame to match any design.
He also shows the use of both entry-level and high-end tools for layout, cutting, and bending, and much more!
Ron's clear and detailed explanations will help any builder get on the road quickly, with a minimum amount of wasted effort.
You'll uncover many valuable insider tips and secrets to building a chopper frame in this must have DVD. And with the excellent instruction found here, building a frame may be an easier project than you imagine!
---

---