Sportster Bobbers Guide

Sportster bobbers give a great old school look to your stock motorcycle. And for most bobber lovers, getting rid of all the unnecessary flash and cash associated with so many stock and custom motorcycle builds is what we like.

The entire idea behind a bobber is to get rid of the extraneous "stuff" that is added to most modern motorcycles because all that extra stuff reduces performance. At least, that was the intention back in the day (the 1940's).

Reminiscent of the post-World War II motorcycles, Sportster bobbers do not carry a lot of flashy chrome and usually are painted in simplistic styles.

Sure, the fuel tank may have some simple artwork, but when you see a real bobber, you seldom see paint jobs costing in the thousands. The KISS principle (keep is simple, stupid) really applies to bobbers made from Sportsters.
Because Harley Davidson Sportster are popular motorcycles, most bobbers begin with a used stock Sportster. 
However, you can start with a brand new bike if you prefer.   Strip off all the extraneous parts, chrome that doesn't perform a true function, accessories that are not required to be legal, and change out the saddle to a solo spring saddle, adding red-wall or white-wall tires mounted on stock wheels and you have a basic bobber chopper. 
Sportster bobbers are often, however, built as custom motorcycles using the Sportster drive train which is placed into a custom frame. But not always (I'll cover Sportster conversions below).
Perhaps you have a Sportster in the garage just waiting for this project; perhaps you picked up a basket case at a recent swap meet. The only criteria for a Sportster bobber are that it must have a Sportster drive train and as little extra stuff as possible. All those fancy embellished bolt heads and other shiny baubles are for other types of motorcycles, not the bobbers.
If you want to follow the traditional old-school definition of a bobber, you'll want to place your drive train into a rigid frame, preferably one that is low to the ground and stretched a bit to give your finished build a low, long, lean look. Most frequently, the frame of a Sportster bobber is painted a nice basic black. 
You will sometimes see sportster bobbers in other colors such as bright primary blue, red, white, or even   military olive, but black is by far the most common paint for these simplistic bikes.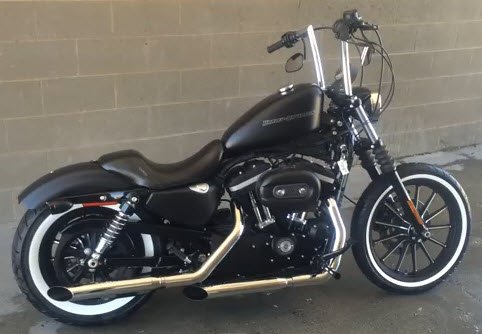 The fuel tank, when not left a single color, incorporates simple artwork such as basic, one-color flames. True old-school bobbers don't go for the fancy airbrush jobs with naked ladies, eagles, 3-D flags, and other expensive embellishment.
The rigid frame of a purist Sportster bobber makes the popular bicycle-style solo saddles with springs make good sense. The springs used in the Springer-style front forks complete the look and feel of the bobber. Billet wheels with fancy designs are left for the flashy customs with spoke wheels being traditional bobber rolling stock. 
Sportster bobbers aren't for everyone. It isn't for the biker that carries a passenger. It is for those who love a simple bike that doesn't cost an arm and two legs to build, and which functions well without the extra flashy seen on show-style custom motorcycles. If this describes you, then a bobber might be the perfect next-bike for you to build.
Sportster Bobber Conversion Kits!
True Sportster bobbers are hardtail motorcycles. You don't have to go this route, but most bobber enthusiasts agree that a real bobber should be a rigid frame like the original ones that coined the phrase in the 1940's. 
But if a softail is the bike for you there are other options that are just fine, and I will go over them in a moment (did you see those bikes above? They are all softails and they are sweet). Just conceal the swing arm and nobody will know the difference (from a distance).
The first option is to do a full conversion of your Sportster. This conversion kit is by Bitterend Old School Choppers.
Full Kit Minus The Frame: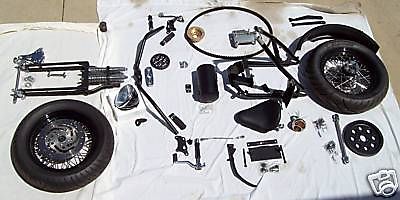 Bitterend Hardtail Frame: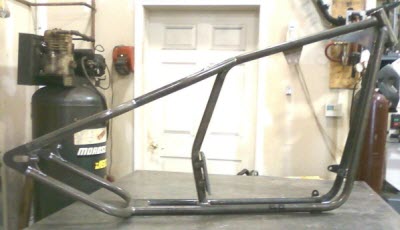 This kit includes the following parts:
Springer Forks (front end) by DNA, including the axle and brake assembly.
Rigid Frame for a 200 millimter tire.
Bobber spring seat assembly (single).
Trailer type fender and struts.
Rear axle and all necessary parts and hardware including a spacer for the axle.
Oil tank, barrel style.
Forward controls, handlbars, grips, headlight and much more!
Here's a video that shows you how this kit was used on Sportster:
Not everyone is going to want a full conversion, and not everyone is going to want to chop their frame or buy a rigid sportster bobber frame. And there are good options for you if you want a Sportster bobber conversion.
For example, you can give your bike a bobber look simply by getting this springer front end by American Classic Motors, removing or bobbing the rear fender, and then converting your seat to a solo springer seat. 
This particlar Springer kit is for a 1982 - 2003 Sportster. And it is TIG welded.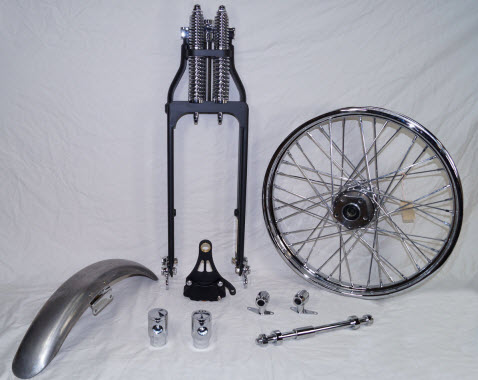 This springer kit comes with the following (and you can also get it without the wheel and fender):
Springer Forks (the front end).
Axle, Caliper, and Riser, kit.
Spoked Wheel (21 inches x 2.15 inches. 40 Spokes).
Bobber fender a mounting kit.
Another option is to go with a weld on hartail and the springer assembly above (along with your solo seat conversion), which will get it close to a full Sportster bobber conversion.
A weld on hardtail is used to convert your softail frame (or swing arm) to a hardtail frame. 
This weld on hardtail by Road6Customs is for a 200 millimeter tire and fits a 1982-2003 Sportster.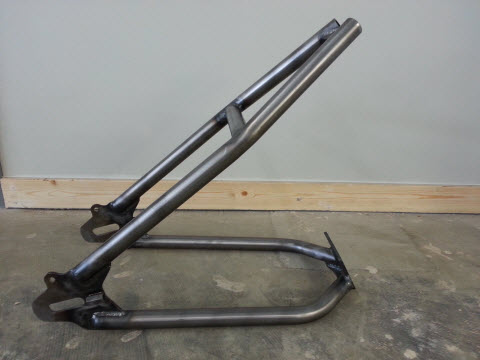 Here's What A Hardtail Conversion Can Look Like: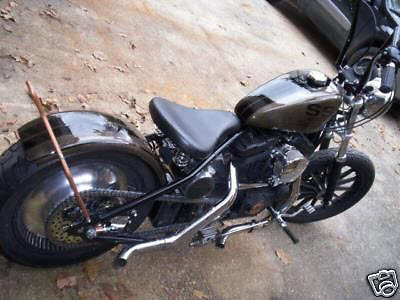 This is a good weld on assembly because you don't have to take out the engine to do the conversion, and it bolts on to the tranny mounts for alignment, and welds on both the upper and lower frame gussets and battery box. This design is solid unlike the cheaper Sportster bobber conversion kits on the market.
It's also made from TIG welded 1.25 inch Drawn Over Mandrel (DOM) tubing, and gives you a ground clearance of about four inches.
Lower costs ideas that you can include with the above conversions are to get white walled tires if that's your thing, and or a solo springer seat assembly.
This white walled rear bobber tire is a 270 Shinko sold by RollOutCustomCycles.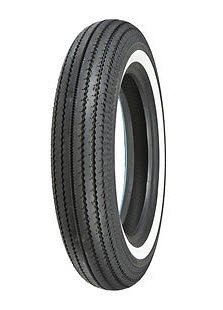 And this Bobber Spring Seat kit is by CycleExprezz: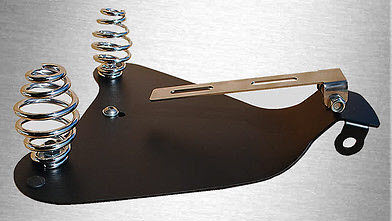 Harley's are costly. You are paying for a quality American made brand, even in the used market. So it's hard to chop your frame and convert it when you paid for the softail. So don't feel bad about sticking with a softail. When you get older your back might thank you for sticking with it.
If this guide to Sportster bobbers was helpful please let us know by sharing it. And don't forget to sign up for our free newsletter and mini course. You'll like it...a lot!