What's So Special About Springer Forks?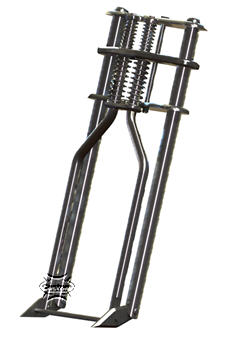 You've heard about Springer forks since the first time you ever saw or heard about motorcycles. Most people just think of Springer front ends as a brand name of forks.
That is not, however, the case. The Springer is a design. The design may be found under many different branding such as Wyatt Gatling, Road Max, Mid-USA, and tons of others.
Or you can build your own springer front end.
Motorcycle Fork Basics!
Put simply, motorcycle forks connect the front wheel of the motorcycle to the axle and the body of the motorcycle. There are many types of motorcycle forks but we're going to focus on the springer front end right now.

A sturdy leading link holds the wheel and forward leg firmly, which is responsible for activating the springs. The rear is attached to the lower part of the triple clamps, which makes it more stable.
For motorcycle enthusiasts, Springer forks give their bikes a stylish look and the ability to customize their bike according to their preferences.

Even though Springers have lost their popularity in the mainstream motorcycle industry to a certain extent, but they kick started a revolution in motorcycle technology and remain a fixture in the old school chopper and vintage bike culture.
The Design!
You've heard about Springer forks since the first time you ever saw or heard about motorcycles. Most people just think of Springer front ends as a brand name of forks.
That is not, however, the case. The Springer is a design. The design may be found under many different branding such as Wyatt Gatling, Road Max, Mid-USA, and tons of others. Or you can build your own springer front end.
There are basically two types of motorcycles forks: Springer and hydraulic forks. It's not a case of which came first, the chicken or the egg. Springer fork designs were around longer before the hydraulic fork. The concept of the hydraulic fork was first present on the Harley-Davidson Hydra Glide in 1949. Well, since Harley has been around since 1903, that's a lot of years that Springer forks were the only game in town.
The difference between the Springer and hydraulic forks is just what the name says: springs. Springer forks have two springs to soften the ride, allowing the bumps of the road to be absorbed somewhat before reaching the rider's hands.
The hydraulic forks, filled with pressurized fluid, perform the same function, but with a much different feel on the road. The Springer ride is bouncier and has a more flexible feeling on the road.
Some riders strongly prefer the feel, while others say it is too spongy and prefer hydraulics. It's really a matter of personal preference when it comes to the way the different fork styles perform on the road.
Springers have long been popular for use on custom choppers, in part because they look so great. Those big chrome springs draw attention to the top of the forks, bringing the eye up to the handle bars, mirrors and rider. They are also quite popular because they work so well in extended fork configurations on racked frames.
Springer Fork History:
Springers were popular in the early part of 20th century. Like many things, motorcycles have also gone through many evolutionary phases before getting to where they are today. Whether it is power, design or performance, all elements and components of motorcycles have improved significantly. One of the important elements in motorcycles is front end suspension.
What's amazing is the fact that the springer front end is not the first motorcycle suspension design. It all started with Girder forks. In 1913, the first motorcycle suspension design was introduced, the girder fork. It was a big leap as it was a novel concept and design for motorcycle. Girder forks made an impact on the industry but after a few years, problems started to surface, to overcome which Springer forks were developed.

It was in late 1930s when Springer forks were introduced. From there on, there was no looking back. The demand for military bikes surged during the Second World War and Harley Davidson's military bike XA was popular during that time. The Springer fork's design was also one reason behind this popularity. Another breakthrough came in 1946 when friction dampers were replaced with Monroe's shock absorbers in motorbikes. 
They evolved during the 1950s and 1960s. The Springer forks of the 1970s and 1980s were completely different from those originally created in the 30s. Several improvements were made in different aspects of Springer forks to make them more capable of fulfilling the requirements of motorcycle owners. Seeing the growing popularity of Springer forks, many companies started making motorcycles which incorporated them into the design during the 80s. Many models with Springer fork were introduced but a majority were discontinued during the 90s and 00s. 

The latest model I could find from a factory build bike that had a springer front end was released in 2011, Harley Davidson's Softail Springer. Although, modern bikes feature more advanced and sophisticated suspension designs, Springer fork still holds a special place in the hearts of old school motorbike enthusiasts.
Today, you will see Springer forks in old-fashioned motorcycles, custom choppers, bobbers, and old racing bikes like board track racers.
Some of the best springer designs are built by fabricators and you can buy custom built ones on eBay or have them built to your specifications. Our design really kicks butt but we are biased.

Comparison:
Let's take a look at some similarities and differences between Springer forks and other types of motorcycle forks.

Similarities:
You will find it difficult to distinguish them on the basis of looks. Although, there might be many differences but when it comes to looks, they look similar. Apart from looks, some motorcycle forks also share common attributes, such as lack of trail adjustment options and presence of harmonics and vibrations. This makes it a hassle to control and maintain the balance of the motorcycle.
Differences:
Shock prevention

Serve different purposes

Mode of operation
They use springs to prevent shock and work in a different way as compared with other motorcycle forks. Moreover, each motorcycle fork serves a particular purpose. Although, you can use them in custom choppers and bobbers but you will only get the best results if you choose the right motorcycle fork for your purpose.
Pros and Cons For Springer Front Ends On Choppers and Bobbers!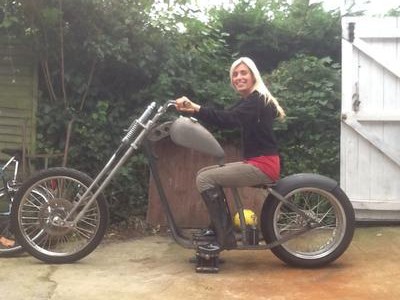 Do Springer front ends have what it takes to please the style-conscious custom bike builder or enthusiasts? Let's find out:

Pros:
Visual appearance

Customization options
Ask yourself why are you going for custom choppers and bobbers instead of a regular, standard motorcycle? Your answer will be that you want to stand out from the crowd and make a style statement with your motorcycle, or keep a vintage or old school look.
Another reason might be that you want to customize your bike and change its appearance.
Now you can achieve all that and more. They give you the ability to customize your motorcycle and make heads turn.
Cons:
Hard to control

Extra shocks required
There are some disadvantages of Springer many people overlook and end up regretting their decision later.
First and foremost, they can be hard to control because of the vibration and harmonics, especially if you have not installed additional shocks or your frame geometry is off. Riding your bike on rough terrain without additional shocks can be a nightmare. You will have to buy a special kit for making trail adjustments.
On the other hand, poor handling and responsiveness will create problems when making difficult turns and changing lanes. This also increases the risk of accidents and injuries.
A Closer Look: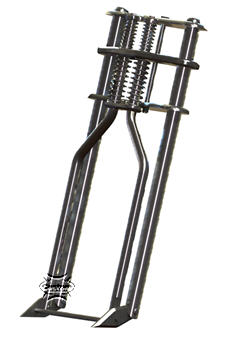 Springer front ends can be found from stock to the ever popular 2-inch over stock length to the drastic 22-inch over length. However, anything over 18-inches over stock is pretty scary to ride and the turn radium is simply ridiculous. A lowered frame with 8 over and zero degrees of rack is a low seated, high handle bar custom styles that is often seen.
If you are a customization freak and a style-conscious, old school motorcycle fan at the same time, then motorcycles fitted with Springer will appeal to you. But if you are looking for a smoother ride and good handling, you should look for newer and better alternatives to Springer forks. Keep in mind that the choice of motorcycle forks will determine the kind of experience you get when riding your bike. 

Therefore, it is important that you make the right decision according to your requirements. It all comes down to your personal preference and the factors you take into consideration. Take your time, do your research and then make an informed decision, to minimize the risk of regret later on.
Is The Springer Front End For You?
That's another one of those questions only you can answer. If you like a stock performance ride, you'll probably prefer the feel of the hydraulic, but if you like that soft, Captain American feel and radical look, then Springer front ends may be the best choice for you.

Just remember, the longer over stock you choose those Springer front ends, the more turn radius your custom chopper requires. It can take a parking lot to turn around! Sometimes, things can just go a bit too far except for show purposes - in which case the more radical, the better!
Related Articles:

What Are Your Thoughts...
What Are Your Questions, Comments, Or Suggestions On Our Springer Forks?
What Other Visitors Have Said
Click below to see contributions from other visitors to this page...