Cheap Hardtail Japanese Chopper
by Stinkey
(Uk)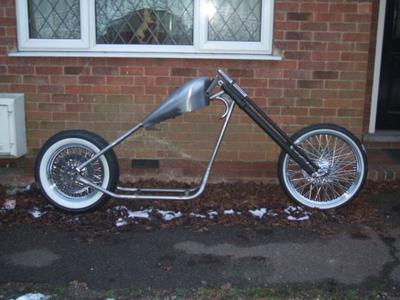 Frame Before Modification
It's a cheap hardtail frame I purchased, and I'm modifying it to make it more comfortable for us.


I managed to buy a cheap set of springer forks complete with an old drum brake front wheel for £75. But I've decided to fit a wheel off a KTM dirt bike with modern brakes.
I may need them? The engine is a fuel injected Suzuki GSX 600. The petrol tank comes from an old bantam. The fuel pump will be housed in a separate tank fitted to the front down tube, gravity fed from the main tank.
Frame tubing was 1.25 inch? I used mig welding. I used a jig I made myself. The rake is about 35%. I'm running a 21 inch front tire and a 18 inch 180 rear...
I'm just a backyard hotrod chopper guy, self taught. Always learning on every build.
I've been mucking about with chops since I was a young kid. Seeing them in biker mags, and of course on the big screen with easy rider..WOW!