Chopper Pictures Wanted (Stock Bikes Too)...Become Famous!

WANTED: Subscriber chopper pictures (motorcycle pictures) so we can make you famous. (Post a picture and a short description now).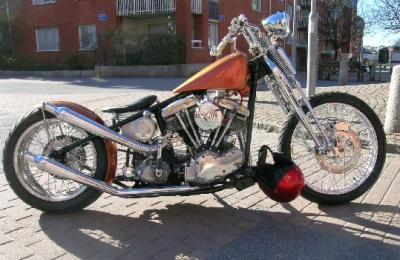 Why you should post a picture of your ride (even if you already posted on the chopper projects page): Here's the deal: 

We are put together a slide-show-movie for all of our subscribers -- You! And it's a big hit. And now we want to make Part II, III, and VI. We will put them up on the most popular video sites. Tens of thousands will see your bike. So get it in now (see below). Only subscribers are invited to participate so if you are not a subscriber, join now.
It's time to show off your bike! All we ask is that you are not trying to sell a bike, or post a motorcycle picture from your showroom floor. This is just for the guys and gals who love their rides and want to show the world.
If you want to post a picture of yourself along with your ride, that's fine. Be sure you put your full name and geographic location in the form below so we know what to put on the slideshow.
Here is the current video project just in case you are wondering.
Post your chopper picture (motorcycle picture) below...
---
Upload A Picture Of Your Bike And Describe It!
Simply upload a picture of your bike and tell us the details. The more the better! We might put you in a slideshow movie that tens of thousands of people will see!
Your Fellow Subscribers Bikes...
Click below to see choppers and street bikes from visitors to this page...

---
---