Kraft Tech Softail Chopper
by Fred Sanders
(NH)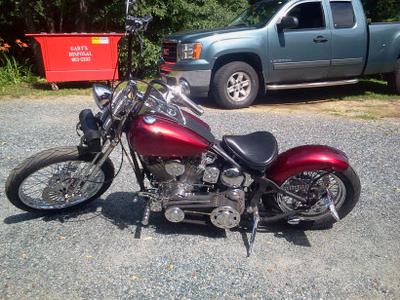 Kraft Tech Softail
Frame is a 2007 kraft tech softail never used, motor is a 2007 rev tech 88ci never been started until 2013! Tranny is a 2013 ultima 6speed, DNA springer, DNA 4piston brakes front and rear. Pipes are cycle shack shot gun 2" drags with baffles. Paint is HOC burgundy.


I started the build in November but bit of more than I could chew! I enlisted the help of Zach, owner of CHOP SHOP CYCLES of Milford, New Hampshire it was completed in May 2013.
Fun little bike for short putts. I ride my 1997 softail custom on the longer rides! Thanks for having me!
Fred