Tube Bender Plans!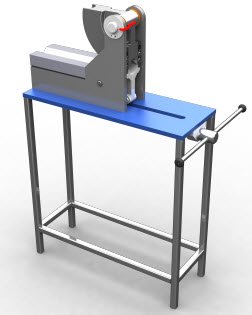 Our new set of Tube Bender plans is a 35 page comprehensive guide that any metalworker, bike builder, or fabricator can follow to build a professional quality tube bender...
Our mechanical engineer has over 20 years of experience designing chassis's, automobile parts, and metalworking devices (he just completed our English Wheel plans which are exceptional as well).
You will find that this set of tube bender plans is easy to follow because we had them designed with the home builder in mind. But the completed design is a tube bender that any professional metalworker or bike builder would love to have in their shop.
It's a totally original design, and it has a small foot print unlike many of the tube benders that you can buy online (or in select shops in the United States and abroad).
Tube Bender Features:

Pipe size 1 ¼" (tools for other pipe sizes could be used)
Bending angle -- 90 degrees
High bending force through screw actuation
Bending angle measuring dial
Mild steel square pipe bench
Overall Size:
Height : 33.90"
Length : 21.50"
Width : 7.99"
The price is just $39.95 $9.95 for a 35 page detailed set of plans (more like a guide) that any novice or experienced metalworker can follow to build a unique and effective tube bender.


Related Products:
---
Tube Bender Plans Q & A:
What tools will be necessary to build, fabricate, and execute the plans?
The parts needs cutting, turning and milling, so it could be manufactured in an well equipped workshop.
How can I know that the quality of the tool made with these plans (if followed exactly) will perform and give me the results I need?
Regarding the tool quality and functionality, I may tell you that the main parts (e.g. the actuating screw) were calculated, properly dimensioned and the main movement of the mechanism studied. Actually, a version of this device was manufactured and used some years ago, designed also by our engineers.
If you don't want to build a tube bender with these tube bender drawings you can read this article on where to buy a good quality tube bender for your bike building or metalworking projects.
How To Use The Tube Bender!