Before After Pictures Of My Custom Gas Cap
by Jerry (partner-bfe) Rasmussen
(Longview, WA.)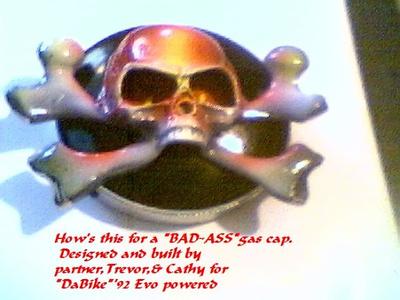 original I did
Hi There Everyone,


Partner once again here to "up-date" the little things on my Bike
. I'm submitting before (original) photos of the Gas Cap and the "new" one as after my frame broke it took a few other pieces with-it to the "BoneYard" and sadly the GasCap paid the "ultimate" price! Slashed, Crashed,and Destroyed.
I had an extra regular (plain) cap in my parts bin so it was chosen as the base. Next the "Skull" suffered broken Bones so I took what was left (Skull) trimmed off all the breakage, re-painted,remounted,and this is what she is now.Hope you enjoy,I accept all comments,good or bad,so come-on all,"spit it out"I don't get upset,too old for that "petty" trip !!I love you all,Love and Respect to all "True" Brothers and Sisters,alike !
Partner-bfe (Old School Rules, New School Only Made It Better!)
p.s. Sorry, I forgot to tell you about the paint. I had to do by hand as my "AirCompressor" took a major "big-one" on me, so I'm back to my Basics (by hand). I 1st did skull in bone white, I then did a "lil" shadowing & line accent, to blend all I used an "Old School" Artist trickcalled "blotting".
Afterwards I sprayed (can) clear on & while still wet, added the glow-powder to "It". The effect produces natural color in normal light, but "skull" has a light, phosphorous, green glow in the dark,is awesome to see the look on your Bros face when he sees the 1st time riding; in the dark, from his bike, to yours, the looks & questions are "bizarre"!
Partner-bfe