Chopped 1957 Hardtail Harley 1993 Evolution Drivetrain
by Jerry (partner) Rasmussen
(Longview, WA., U.S.A.)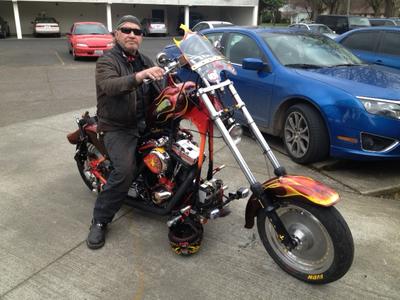 Chopped 1957 Hardtail Harley - Me and Best Friend
Specs. of my 1957 Hardtail Harley:


1957 Hardtail Frame, 6" stretch in the front tubes, 38* Rake, 10" over Front Forks, Drag Bars, Chrome Horse-Forward Controls, Disc Brakes-Front & Rear, Belt Drive, BDL 1 1/2" - Primary, Chain Drive-Final, Solo & 2 up (King/Queen) seats, Mustang-GasTank, 16"-solid FatBoy Wheels-130x16"-Rear,90x16"-front, '95 Heritage-Fenders, '93 Dyna-Front Forks, Motor, 5 speed transmission, Motor Pumped up, 180# Compression, stroked, Cammed, Balanced, Ignition-Crane, Hi-4, Carb-Screamin'Eagle, Kehin, Custom Turnsignals-LED & Bullets, & Too many more to name...
This Bike was originally built in 1993 as a Club Runner,I bought the bike in 2000 and have enjoyed every single mile I have put on "Her". My Bro Barry and I rebuilt "Her this winter after the front tubes & the Backbone broke. My Bro Barry did all the welding(His profession)and I did all the PaintWork & AirBrush(My Profession).
She is a Flame Candy Red Base-Added MicroPrismFlake (Over) Full shadowed Bottom-Up & Front to Rear,& Full Multi Color Flames, many Coats of Clear and a lot of Hand Polishing. Also added few well placed personally shaped copper & brass accents.