Goldwing Build Adventure
by Mike Leblanc
(Texas)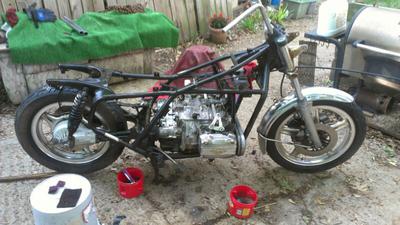 goldwing build
Me and a buddy went in on a deal to get 3 OLDwings (Goldwings). There was a 76, 78 and a 79. All of which needed extensive work. I took the 79 home in pieces and undertook an adventure I wasn't aware I could do. I knew nothing of the inner workings of a bike and definitely nothing about building one.


So after about a week of standing there staring at it during the day, hoping it was gonna put itself together, and many nights on Google and YouTube, I decided that I could do it.
I completely rewired it using multiple wiring diagrams and some trial and error. The more I do, the more I take pride in the fact that I built it. Now the buddy I went in on the deal with wants me to help him build his 78, another one wants me to just build him a bike and my wife wants me to build her a trike. I can see the becoming a rather expensive hobby lol.
Join in and write your own page! It's easy to do. How? Simply click here to return to Chopper Motorcycle Pictures: Become Famous!.