Old School Chopper Builds From The 70's!
by JW
(PARKER AZ)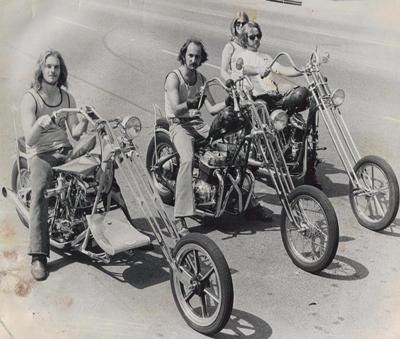 3 Old School Choppers
Here are 3 choppers we built in the late 70's when I had a shop in Bellflower, CA. The front one is a shovel. The air spoil in the front was a levered oil cooler, and the center hxacon tank was used for nitrous (i.e before o.c.c).


The back one was a panhead and the center one was a 750cc Honda, the springer front ends were our own designs.
All 3 bikes and custom pipes were also our design the front wheels on the pan and the shovel were ours also.
O.C.C WAS NOT THE FIRST TO BUILD OUTRAGES BIKE'S.
THESE ARE MORE WHAT JESSE WOULD HAVE BUILT IF HE WAS BUILTING BACK THEN.