Stinkeys Bike Building Projects!
by Stinkey
(Uk)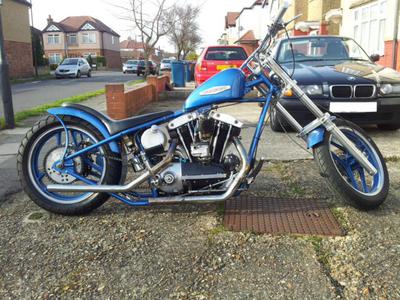 Stinky's custom chopper
As you can see I like to keep busy with my projects, and tend to have something on the go at any given time.


I like the fabricating side of bike building but the last minute fiddly jobs are a pain.
My son often collaborates with me in a project or has his own, plus I've helped build many hotrod chops for friends too.
The black trike above is one I've just finished for my best buddy. We are sorting out a few bugs on it at the moment and then have to get it registered for road use? A long waiting process at the moment
The long chopper was my last project (now sold). I spent about £12000 on that build. I never got to ride it though. I made the frame. It's a rigid frame with an S&S 96 engine, right side gearbox, 300 rear tire, 21 front, DNA front springer (14 over), and lots of nice brass touches around the bike.
My good friend Glenn Moger did the seats in red and brass. I used some old cut down valve springs for my seat to give a little bit of comfort.
The trike in the build up stage is for my lady. It runs a reliant engine (3 wheeled car) and a Jag rear, and an old Springer front end. The chassis (frame) I'm fabricating from old material I have had lying about the workshop, but not touched it for months.