1957 Panhead Chopper
by Rick
(McGregor, MN)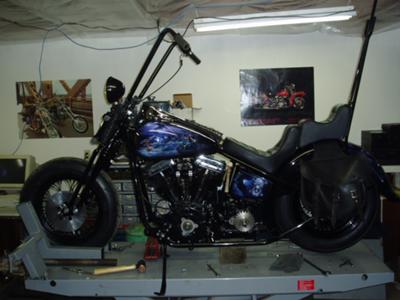 1957 Panhead
I've built a few bikes over the years I wish I would've kept a better photographic record. In addition to my first build


https://www.custom-choppers-guide.com/knucklehead-chopper.html
Here is a bike I built for an old college roommate in 2004. It started as a
rat bike
. Really ratty. Really really really ratty.
The cases don't belong to the other, I had to mill the cylinder decks to make them level. In fact I had to machine every gasket surface on the cases; lifter blocks, timing cover, oil pump. There is a lesson to share here though. Take your time and be careful when scraping gaskets off aluminum surfaces. Work like you're getting paid by the hour not flat rate!
In addition to that the rockers needed re-machining, the lifters were so loose I had to hone them slightly and fit over size lifters, bore the cylinders and fit pistons, and a complete valve job. And that was just the motor, I could write a whole chapter on the transmission (maybe some other time). Oh yeah, the frame was bent severely.
He chose S&S 4 1/2" stroker kit with an Andrews cam (I can't remember the particular grind). And he got a new frame. The finished bike is on the cover of October 2005 Free Rider Press:
http://www.freeriderspress.us/oct05/pg01.pdf
http://www.freeriderspress.us