Why Old School Choppers Will Always Be Admired...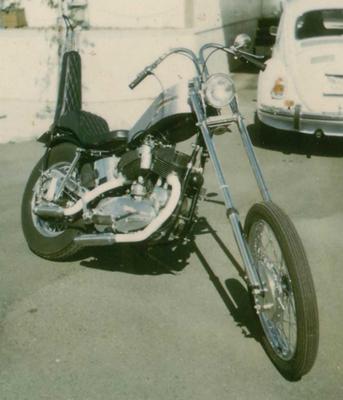 Old school choppers refers to custom built bikes that are based on models that have a heavy frame, a low slung leather banana seat, a huge front wheel and a long forked front. 
Like most choppers, old school are acts of deconstruction that completely eliminate the usual accessories such as a windshield or leg-guards.
The motorcycle to the right is a chopped and raked 1954 Harley K. 
The idea is to build a bike that almost like a the monstrous prehistoric metal skeleton of classic Harley Davidson and Triumph motorcycles manufactured in the early twentieth century. Their strangely high or twisted looking handlebars often also characterize old school choppers. Many builders will also distort the look of the exhaust pipes by bending or lengthening them. 
Custom bent pipes can be purchased at chopper stores and sites to give your chopper that authentic old school look.  
Old school choppers are not known for their bright colors. Brightly colored choppers are considered to be new school. To qualify as a true old school motorcycle the machine must be black and silver and boast many chrome accessories and trimmings.
Some would say a chopper is considered old school only if it boasts a v-twin engine. The most popular of V-twin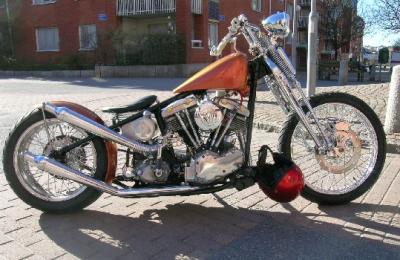 engines that are used to create old school choppers are knucklehead and shovelhead engines.
The Harley Davidson Motorcycle Company first introduced knucklehead engines to the world in 1936. The knucklehead is one of seven v-twin engines produced by the company. The other v-twin engines are the Flathead, Panhead, Shovelhead, Evolution, Twin Cam 88 and the Revolution.
The chrome head of a knucklehead engine resembles the knuckles of a human hand when it is curled up into a fist. The sculptural appearance of this engine has great appeal for those who love "the look of power."
The shovelhead engine got its name from the distinctive look of the engine's rocker box covers. These covers resemble the heads of coal shovels name.
Old school chops are also associated with celebrities such as Peter Fonda, Johnny Depp and Dennis Hopper. Popular culture has often taken a somewhat romantic view of the old school motorcycle, featuring them as the firehouses ridden by rebels, loners and vigilantes on the silver screen.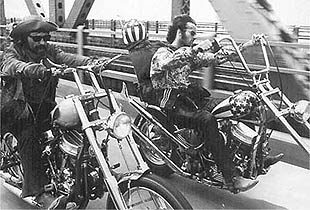 On the less glamorous side, old school bikes have been associated with Biker Gangs., who are fond of the enhanced bad-boy image many old school choppers provide them. 
SIDE BAR: Many of Harley Davidson's first choppers were designed in the 1930s and 40s for the use of law enforcement officers. 
Despite its origins as a police bike, the old school motorcycle now shares a common identity and mythology with such gangs as the Pagans, the Bandidos the Outlaws and the Hell's Angels. Although not all biker gangs engage in illegal activities, these groups have given the old school biker a bad rap in the latter half of the last century. 
As they are so taboo, old school choppers are often the first choice for enthusiasts building a chopper. However, while shopping for used or new knucklehead or panhead engines make sure that you buy one that is going to fit your chopper frame. As glamorous as these engines are, you want to make absolutely sure that it doesn't end up sitting on a shelf because it does not bolt onto your bike!
Recommended Article:
How to build a chopper... learn to build custom choppers and kit bikes faster and easier.
Related Articles:
---