The Harley Davidson Knucklehead Motorcycle Engine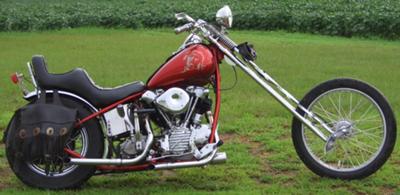 Almost every chopper enthusiast is aware of the Harley knucklehead engine.
If you are not familiar with the knuckle head engine, it is a Harley Davidson V-Twin engine which derived its nickname from the fact that the rocker boxes resemble two knuckles on the back of a hand closed into a fist.
The factory official named of the knuckle engine was originally "61 OHV".
The Knucklhead chopper above was built by a subscriber or ours, Ron from Fort Payne, Alabama.
To many motorcycle enthusiasts, whether chopper fans or stock configuration fans, the Harley Davidson brand name is synonymous with cool, powerful, quality motorcycle engines, accessories, and parts.
Frequently, anyone building a chopper will turn to a Harley power train because of the company's excellent reputation as well as for the prestige associated with owning a Harley V-Twin powered custom chopper.
The Harley Davidson Motorcycle Company initially introduced the knuckle head engine in 1936. Prior to 1936, Harley had manufactured overhead-valve singles but the 1936 knucklehead represented the first of the overhead valve V-Twins.
It is noteworthy that the research and development phase occurred during the dark economic times of the Great Depression. It is also noteworthy that the knuckle led to the V-Twin engines which followed, even those in production today.
With the advent of the popularity of custom choppers, the knucklehead engine became a popular choice for many chopper motorcycles.
These powerful engines were chosen by many to place into a stretched, raked   frame to which over-stock length forks were added.
Today, the knuckle engine is a classic and anyone lucky enough to have a knucklehead chopper has a treasure of which they can be truly proud.
Even as a basket case which must be completely rebuild, the knucklehead engine is a great choice for powering your custom chopper.
These engines, when given proper care, can increase in value while providing you a truly classic chopper engine to enjoy.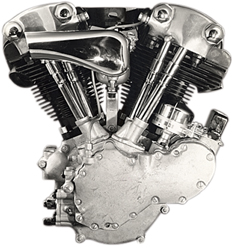 Reading:

If you have a bike or custom build you are working on and you want to share it with our community of bikers and custom chopper guys and gals, see our special sections on Chopper Pictures and Chopper Projects.
You might meet a new pal. But share you bike too! And if you are a Knuckle fan, you will be sure to learn more about the Panhead and Shovelheads.
Articles on these engines are above, and you'll find pictures and contributions from our subscribers on their killer Pans, Shovels, and Knuckles in the Chopper Pictures and Projects links above. Check them out now.
Related Video: Knuckle Rebuild.
iframe width="315" height="236" src="https://www.youtube.com/embed/KIPYyF8Jxl4?rel=0" frameborder="0" allowfullscreen>