Original Chopper Frame Jig Plans Designed By A Master Fabricator...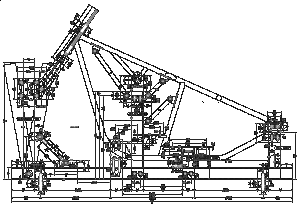 Quality chopper frame jig plans will save you a lot of time, money, and frustration.

So if you are building your own one-off ol' skool, 250, 280 or 300 WIDE TIRE monster chopper, a chopper frame jig (or a motorcycle frame jig) is a necessary tool, and original chopper frame jig plans will get your there. Especially if you want to build your if your dream bike right.
A top quality, fully adjustable Jig is the ONLY way to insure that your frame is straight, all the components are at the right angle and in position! And this set of blueprints will give you that jig.
Building the chopper frame jig from these Professional Custom Chopper Rigid Frame Welding Jig Blueprints are a MUST if you want a professional quality frame time after time. With this set of chopper frame jig blueprints you will construct a top quality FULLY ADJUSTABLE Welding Jig...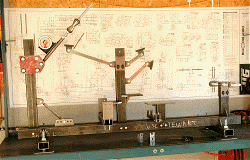 Tubing diameters are easy adjusted from 1.25, 1.375 and 1.5. No matter your style or design this jig will adjust to fit your needs.

Long, short, low or tall all fit in this jig.

Virtually any rake and stretch combination you can think of can be built. 

All detailed views on these chopper frame jig plans clearly display motor and transmission mount locations and other critical dimensions of frame components. 

Including forward control mounts and axle plates

.
These crisp and clear chopper frame jig plans are working prints and are the real thing, each is an original print - no fuzzy 'copies' here. Each set measure 36" x 96" (3 feet by 8 feet) and is printed on brilliant white paper strong enough to withstand shop notes yet attractive enough to display in a frame. Prints are delivered in sturdy storage tube, no fold marks!
These clear and easy to read, extremely accurate, LARGE 1/2 SCALE chopper frame jig blueprints display BOTH Fraction and Decimal measurements of every critical dimensions and angle imaginable, including standard V-Twin engine, transmission, forward control and axle locations. 
The set of chopper frame jig plans you will get have ALL the dimensions and angles you will need to build your own motorcycle frame jig including Basic Material Schedule and Builder Notes. These are the exact same dimensions as those used by all of the big bike manufactures.

The process of building a bike can be frustrating to say the least. If you are considering building your own custom chopper these clear and precise prints are a must have. The more good information you acquire, the better prepared you are for success. Whether you want to build an old school chopper frame jig or build one, now you will KNOW what you are talking about!
Related Articles:
---
---