Successful Custom Motorcycle Paint Jobs...

Custom motorcycle paint is just one way to spruce up the look of your chopper.
Your chopper may need a touch up paint job, or you may just be looking for a new look. Either way a custom paint job is the best way to go...

You do not need to get a whole new custom motorcycle paint job. You can get an airbrush touch up which will fix up the look and give a new feel. The end result will make it appear as if you have a new motorcycle! Photo below is copyright protected by Pamela Shanteau...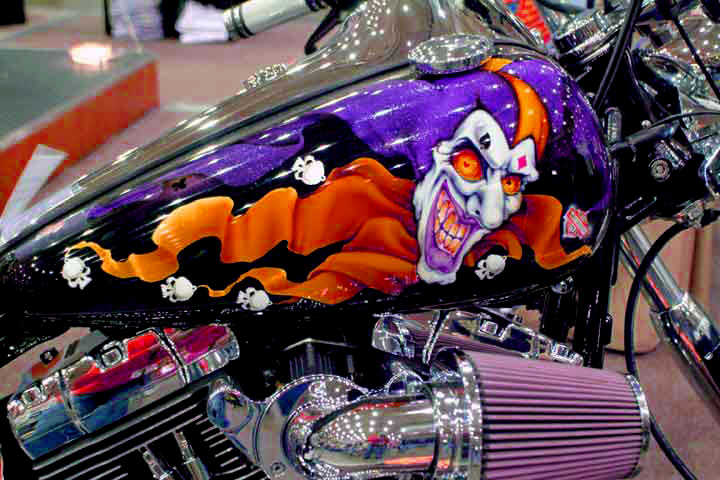 When choosing what to have done as far as a custom motorcycle paint job, you have many options. There are a lot of custom paint shops that can provide airbrushing, graphics, or flames at reasonable prices. 

The artists can be sure to give you plenty of advice and will work with you to ensure your paint work is done to your exact requirements. Do a search on the internet only after you have exhausted your local airbrush and paint artists. 
A second option...
There is another option you can explore when looking to touch up your bike. You can do it yourself...

Custom paint jobs that are done by the consumer are becoming more and more popular. However, not everyone is artistically inclined, so the first option may be beneficial for those who know exactly how they want their custom motorcycle paint jobs to be done, but may not know how to paint. 
Get examples 
Most motorcycle shops offer examples of their work so you can check out the types of paint jobs they do. 

The advantage of checking out other custom paint jobs is that you can garner ideas for the type of custom motorcycle paint job you would want to have for your own custom chopper. Once you have an idea of what kind of custom paint job you would like on your chopper there is only one more thing you need to do. It is an important step in the process. You need to set out to find someone who is qualified to do the job for you.
---
If it is a straight paint job you should find someone dealing in custom motorcycle paint and have them paint your custom chopper to your specifications. If you are looking for something more detailed, ask questions. Make sure they are using check samples, and remember to ask as much as you need to. This will ensure that you get the paint job you are looking for and that you walk away satisfied. 
---
For those of you who want to paint your custom chopper yourself make sure you do it with utmost precision. Go to a dealer and ask questions to find the best paint for your chopper. 
The fun part... 

Once you have purchased paint you are set. All you need to do is be creative, and paint your motorcycle the way you want it. All you need is a little creativity, and an endless imagination.
Highly Recommended Product:
Worlds Best Custom Painting Instruction: 
How to paint any motorcycle like a pro!
You may be interested in our special mini course. It's a free custom motorcycle course that will sharpen up your skills. Plus, it's loaded with custom chopper tips, stories, pictures, special deals, and much more. You'll love it, guaranteed!
Related Articles: