Big Bear Choppers D.A. Kit Build
by Bobby C.
(Upland, California, U.S.)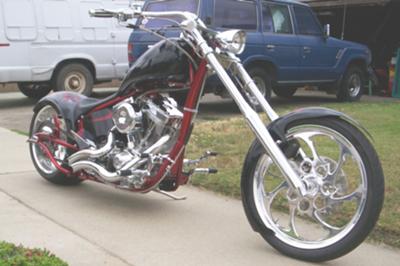 Big Bear D.A. Kit Bike
My Brother and I got this Big Bear Choppers D.A. Kit bike in kit form about 3 years ago with the intent to sell it for a small profit.


I spent a year building it, and we sold it last year. Unfortunately, about the same time I finished it the economy tanked. When it finally sold we took a loss. That's okay though, we got most of our investment back and I had a blast building it!
I'd done lots of modifying and customizing, and have put together a couple of basket cases, but never assembled a complete motorcycle with such high-end parts before. I gained a lot of valuable experience and knowledge in the process! The guys at Custom Choppers Guide were also helpful.