280 Left Hand Drive Custom Bike!
by J. Mac
(Okla. City)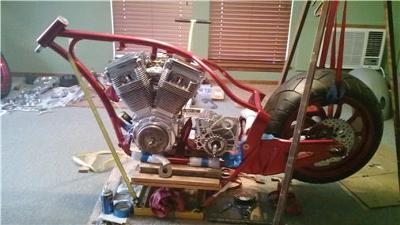 left hand chain drive
I bought this roller and hired a friend who worked in a shop and it never got finished so I thought to myself, well I have owned over a dozen customs so I will do it. Well this has been some what of a bitch.


This is a 280 tire left hand chain drive open primary, running a Sportster and needless to say it looks like at least a inch and a half space on engine plate mounting to motor, and trouble with the spacing of the rear wheel, and to say I am building this in my Den, are we having fun yet?
PS: There are some good tips on this site, oh and another thing I forgot to mention this bike has an air ride with a separate pump and air forks, a lot of money here, could buy a bike for what I have in just a few parts, but I will finish it. A word of advice, let your first build be a hard tail kit. Thank you, John, but I can ride my John Deer.