My 1974 Custom HD FXE
by DJ Baar
(New Orleans)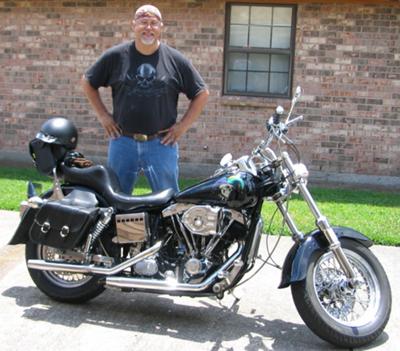 1974 Custom HD FXE
This is what was a 1974 Harley Davidson FXE Super Glide. I bought this old bike from local HD Dealer (who had it for YEARS) thinking it only required a little TLC - WRONG.


Joker has S&S jugs and dual plugged heads with DYNA single fire ignition and runs HOT HOT HOT --- That ol' Harley is a real "Stroker!!!" If it weren't for the SPYKE High Torque Starter, Drag Specialties Solenoid, and BIG BORE Battery – it wouldn't turn-over because of the compression of this old ShovelHead! Add in a late model 5-Speed transmission and ol' S&S Super B Carb with Kuryakin Hyper-Charger --- its really a fun bike to ride and "head turner!"
I have re-wired the whole bike and fixed everything I came across (long list) to make this now one reliable old scoot. Here's hoping to enjoy the Summer on this ol'Bike and keeping the shiny side up and the rubber side down!