India Ground Up Chopper Build
by Arpan
(India)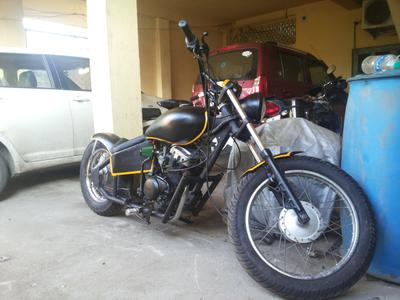 37 degree rake
Hey guys, I am thankful to you guys for putting up such good articles on your website. Those article have helped me a lot.


I am from India and I am an automobile engineer. I have just completed my engineering graduation and I decided to do something on my break. I have already made a baja vehicle in my college and now I have made a chopper.
In India its very hard to find a classic v twin. So I just used a Yamaha engine (trust me that's pretty small). I came up with my design which was single seater old school type. Very low ride height and lots of exhaust noise.
I penned it on the paper and started making it. I used 1.25" CREW piping for the whole frame. The rake angle is 37 degrees.
My frame is a hard tail chassis, MIG welded. It has 130`s at the back and 100 at the front.
I have ridden it few times and I enjoy it a lot. It took me 3 month to complete it because I was working all alone on this bike.
I hope you guys also like my chopper. First try...
Thank you guys.