Shovelhead Softail Bobber
by Brian Maurer
(Simpsonville, S.C.)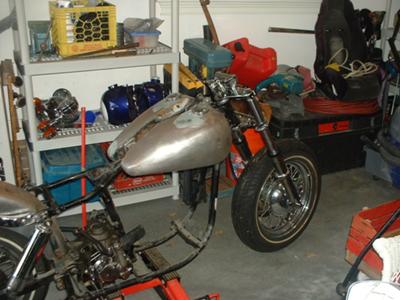 Softail Bobber Rolling Chassis
My Shovelhead Softail Bobber Project: First off I would like to say that this is going to be my first build. I'm 27 years old and am learning as I go.


The bike is actually my dads but he got hit on it some years ago and totaled the bike. He bought it back from the insurance company and put it to the side. He now is on his second bike since then and I'm now itching to get on a bike to go ride with him. I don't have the money to go out and buy one so here I am putting my skills to the test to build a cool bobber.
I love the bobber look and have seen some really cool looking softail bobber pics online.
As you can see from the pictures I'm not that far along, but my money tree hasn't bloomed yet this year. I've torn down the shovelhead engine so far and am getting ready to rebuild with new pistons, oil pump, and going to have the heads rebuilt. If anyone suggests anything else I would love to hear it. I'm going to try and keep most of it pretty stock but give it that old school bobber feel. No front fender, little "trailer" fender with struts coming up from the swingarm.
Maybe some mild ape's (no more than a six inch rise). Not sure on a color. I like the flat black with the red rims and the wide white walls. Dad doesn't care for it though. Well, I guess that's about it. So if anyone has any suggestions I am more than willing to hear them as I am learning and love advice. Thanks for reading.