1977 KZ650B
by Craig C.
(Regina, SK)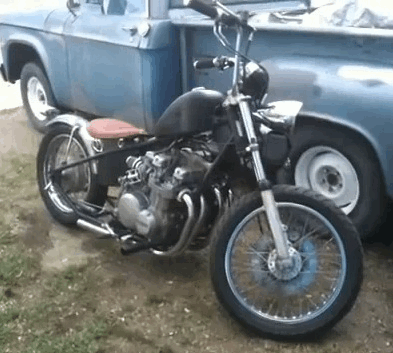 KZ650B
Bought the 1977 KZ650B in terrible shape for $350 last year. It was all original but nothing worked so the bike was not worth restoring to stock.


I half finished it, and put it away for the winter. When it got warm enough to work on it again, I didn't like the frame I made last year. I ended up scrapping it, and built a frame jig out of thick-wall 1" square tubing and a T-square.
Bought axle plates on ebay, and had the frame together in 2 or 3 days. Axle plate angles are +/- 25 degrees.
Ebay Parts List / Sellers who I had good luck with:
Tires - pinwall_cycle_newparts
Cables for 10" Bars - mrssuperdeals
Neck Bearings - motorcycleexpress
Extra Wire Harness - lonwlf61
Axle Plates - sellmysoul99
Extra long drive chain - cochisecountychoppers
Headlight - dans_treasure_chest
10" 7/8 bars - ssparx
Carb kits - georgefix
Tank & Seat - hdscholl
Tank Sealer - holymolycustomcycles
****AVOID "chopperstuffinc" on ebay, that guy is a cheat.
Another Parts website that I have found extremely cheap (esp. in canada): partsnmore.com
I put a leather tool bag in front to hide the wiring, and built a battery box for under the seat. See the Battery Box Wiring Diagram.
$2500 later and some very long hours in the shop, and this 1977 Kawasaki KZ650B is the product.