Americanizing A Yamaha Bobber
by Justin
(Westlake,LA, US)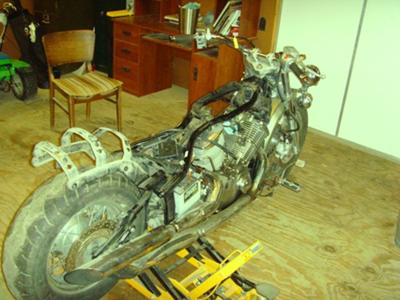 1100cc Yamaha
I wanted a cool bike but I didn't have the money to buy a ready to go chopper or bobber. I always kind of turned my nose to the Japanese bikes until I realized if I wanted a cool bike that I could afford I would have to buy a Asian made bike and Americanize it.


I paid $900.00 for a 1999 Yamaha 1100cc that didn't run. I invested 1100.00 more dollars with a total spent being 2000.00. It took me about four months to finish the bike.
This Americanized Yamaha Bobber was my first bike project I hope to do about five more of these so that I can raise enough money to build my own rolling chassis. The first two pictures are before shots and the last two are after shots. Hope you like.