1988 HD Sporster "Hardtail"
by Russ Berry
(Spanish Fork, Utah)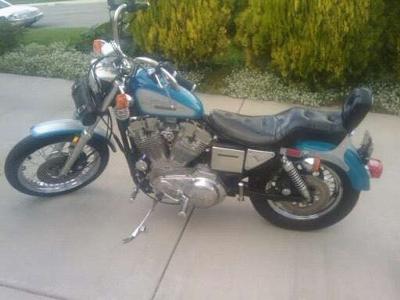 1988 Sporster (Before)
I purchased this 1988 Sporster with 6,000 miles on it last year. It had the original tires. I started tearing it down last October for a winter project. Cut the back off and welded on a hardtail section. Made the seat pan and covered it with $20 of leather. Made the oil tank from a diesel exhaust pipe. Made the license plate holder and added a 32 Ford tail light as well as a sparto tail light. Cut the back fender way down and took the front fender off. Added ape hanger bars and made the sissy bar. Had all the metal chromed in Salt Lake City. Added a factory tach. Painted the tins in my back yard and had a friend pin strip it. Lots of clear on it after the stripping. New tires and it runs like a top. All done in my garage over the winter. I painted it in between snow storms last spring. My first venture at such a large task but I had lots of help from good friends.