Mig Fabrication Class Project
by Ted
(Saint Michael)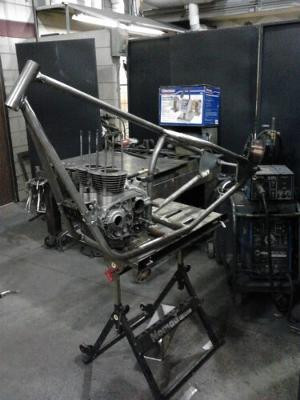 bike frame fabrication
I am taking a mig fabrication class and I am building a bike frame. I got the plans from you guys (Custom Choppers Guide). They are tweaked a bit, but it is coming together nicely.


Unfortunately I think I am not going to the best welding school because when I had questions I never got answers.
Most people would make a box or a stool for fabrication class. Well I had to step it up. They had a ton of 1.25 pipe that was a bit bigger than 1.25. That's why they had it, so they told me to use it up, and I am.
My biggest issue has been learning how to weld smaller pipe. I am getting better at it, but with no one to really guide you, it is a challenge.