The DEATH METAL Chopper
by "Iron" Mike LeBlanc
(Truro, Nova Scotia, Canada)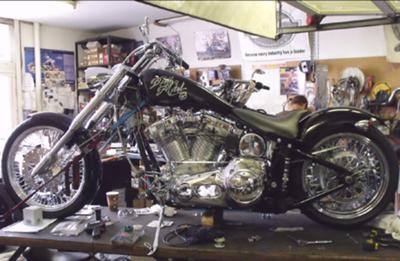 Death Metal Custom Chopper
I started making payments in April of last year to have a chopper built by a machinist/ bike builder in my local area. By January this year I had it paid off but still nothing had been started. I got antsy and started going there once a week on my day off to harass him to get started. finally, he got started. at the same time, I just stayed hanging around and eventually got to start working on the bike myself.


I got to be there for most of the fabrication over the next 8 months. I also got to do a lot of the sheet metal work and assembly. I have never built a machine from almost nothing before. When we started, we had a DNA Pro Street frame (which had to be modified big time!) and a rear fender blank. We ordered every piece separately that was needed to build the drive train, front end, brake system, wiring assembly, rear end, and all the trimmings. Sounds easy right!? Not blood likely!
We had to modify every single part of every single separate component before we could ad another piece for the next part of the assembly. That frame was a misaligned piece of junk. We cut and welded and added pieces that were missing, including the misaligned shock mounts, made and welded on belt guard bracket mounts, drilled holes for the hidden wiring, motor mounts, cut pieces off the forward control mounts to accommodate for the Ness controls we used, routered out the goose neck bushings and god knows what i can't remember right now...
The fenders came as bare stock blanks, so i drew designs i liked and plasma cut them, grinded, filed, drilled and
slap hammered them into shape. The gas tank i ordered was a PIECE OF JUNK! Worst tank i ever saw in my life! After moving the petcock mount, Cutting the back 3 inches off and adding a hollow piece so it would fit nicely over the frame and shaping and welding a bunch, it took a good amount of glass, kreem and thick paint to hide the imperfections. The frame was powder coated. The tins were painted. I made the seat pan and had it covered locally.
The motor was built one of a kind, in house by Bentley bikes and a bit with my help. It's a 106ci, with 120 hp, 120 ft lbs torque evo style engine. Complete with bored and ported heads, 350 Chevy style pistons made in house, cylinders and piston chambers made in house, custom cam made in house, delkron block, and much more. It runs on a 6 speed tranny with chain primary and new style clutch, belt drive 255 rear end. the rest you can see in the pix. it's all aftermarket parts from Ness, Ultima, DNA, some no name stuff, and a lot of custom parts we made in the machine shop.
This is my first bike building experience and i loved it. I have since enrolled into a correspondence course to learn to build bikes. I will be taking metal fabrication for that certificate and getting a dealers license after that so i can start building and selling my own custom builds. I hope you like this. It's unusual for sure and we built it only to suit my tastes. I'm surprised at how nice it looks and how well it turned out. It rides great and looks awesome.