1957 Chopper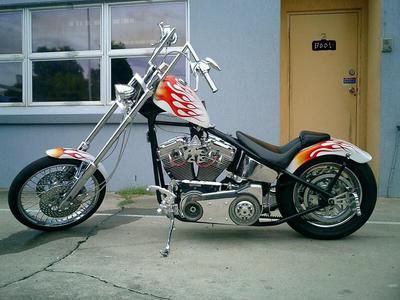 Been riding all my life am 55 yrs young, being a builder and working very hard all my life has worn me down. I fell off a roof about 17yrs ago and now have (5 disc prolapses). Two in my lower left back standard. Place for prolapse. One on the left and one on the right sides of my neck which knock me around dizzy, really bad headaches etc., and the last one in the middle of my back so I exercise every day to be able to move and live to my fullest.


So that's my story. What has happened is I have been riding a rigid chopper now for about 12 years and it is totally killing me after a 1/2 hour ride I get home and feel like crap with prolapse pain.
I have been working on my bike converting it to a softail frame for about six months now, and just about to start to sew the leather on my custom seat. But I notice the swingarms powdercoat was chipping away. I cut it short and the owner of the company sacked the fool that did my frame and has offered to re-do my frame for free.
The swing arm is done but I have to strip my bike down to do the frame. The owner found out the frame was NOT sand blasted, that's why its chipping.
The finished rigid is what I have been riding and the other picture is where I almost got to finishing the bike. Once I have had the frame redone I will post pictures of how it put together properly.