Softail Frame Build Completion!
by Ian Loveday
(Northamptonshire)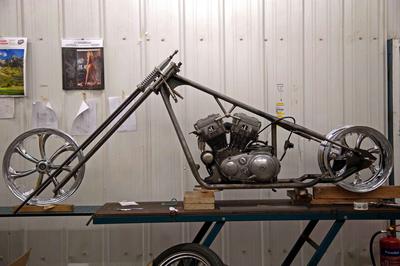 Almost Finished
I first posted my build on this page: Softail Frame Fabrication


It's now road legal, having taken about 3 years it worked out to be a very rewarding project.
The pit falls that I came across along the way.
1.
The frame plans do not take into account the pivot point of the swing arm. It is a long way from the chain drive. This means that you either have to have a jack shaft drive at the pivot point or have an automatic chain tensioning system as I did.
2.
The frame has to be accurate mine was about 0.5 of a millimetre out which meant that the rear sprocket would not line up with the drive.
I ended up making a seperate jig to remanufacture the rear swing arms exactly the same.
3.
The shock absorbers are not linked side to side so the accuracy of all the rear components has to be perfect. Having let you all know the mistakes I made I am pleased to say that the bike rides like a dream, No twisting of the rear wheel when drive is taken up and the suspension means that the ride is super comfortable
All the machining was done on a small Boxford lathe.
I made all the parts that I could but there were some items that had to be bought in.
The one big praise goes to the guys at Ultima for the wiring system a stunning brilliant system which does exactly what it says on the label, thanks guy's.
The springer front end is stunning.
The bike goes round courners very well with I might add a fair bit of lean angle making for an exilerating ride. I hope this will help some of you and you can maybe avoid the mistakes that I made. I am going to put a few miles on it before it is stripped, painted and chromed. I Will post the final picks next year when totally finished.